We got to Cape Perpetua later in the day, and this was one of the few places we stopped where the tide didn't cooperate with us! We were there at low tide so we weren't able to see Spouting Horn explode. But we did get to see some fun activity in Thor's Well – even if it wasn't as grandiose as it would have been at full tide.
We parked up at the visitor center parking lot (great for trailers and RV's) and hiked down the trail (under the road) and over to the lookout. Then we walked down the Captain Cook Trail and out onto the rocks where we walked out to Thor's Well. There is SO MUCH to see in this area. The Devil's Churn, Trail of the Restless Waters, the Giant Spruce, and even whale watching.
We were there later in the day and mostly focused on Thor's Well and Spouting Horn. If you want to walk all of the Captain Cook Trail, it is only about 1 mile round trip.
The trail was fun to hike and when you come from the trees, the views are spectacular. The picture below is one of the viewpoints down by the Spouting Horn and Thor's Well before you can follow the trail down.
Cape Perpetua
The picture above is me and my kids checking out Thor's Well. There are also several tide pools out this way.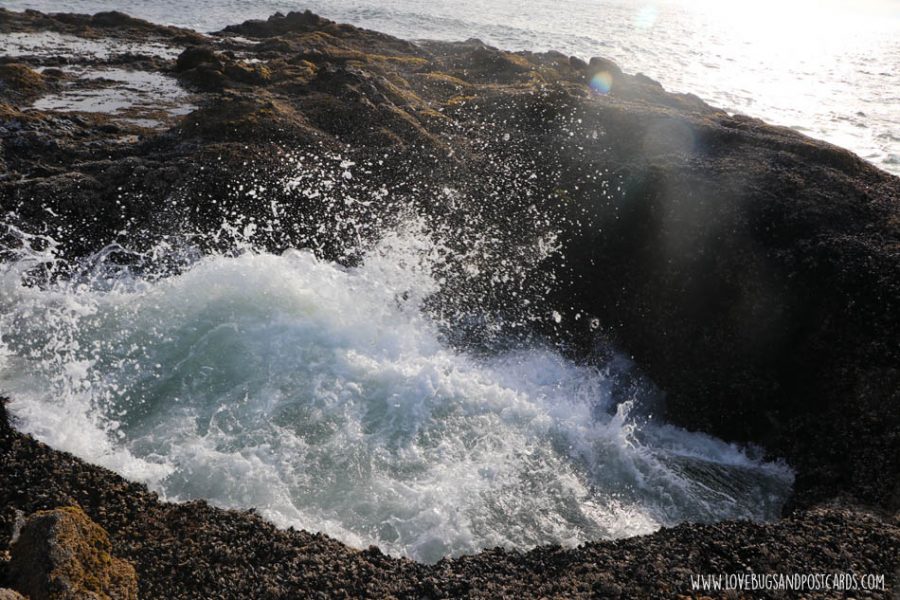 Thor's Well
Thor's Well is amazing. The tide was starting to come in and we got to see some really great explosions of water coming out of the well. We stayed here for a while just watching it. It was beautiful.
Spouting Horn
Above, you can see Spouting Horn. Of course, it didn't go off when we were there, but you can see the half circle of the mountain, and the horn is inside there. We could hear it, and it sounds really cool.
This bridge is beautiful. You can see this from down by the Spouting Horn and Thor's Well.
The sunsets and views are incredible from here. If you have some time to spend here, I would highly recommend it. I would have actually liked to camp here, but the location didn't work for our trip. We didn't get a chance to see the big spruce tree either, which is up by the campground.
This is a beautiful place to stop and enjoy the ocean and some great natural formations. We even saw a couple of whales while we were standing there! I hope this helps you plan your visit to Cape Perpetua and have fun! You can see the tide tables and more information about Cape Perpetua here.
Roadtrip down Highway 101
Planning a trip? Be sure to check out our other stops on our trip from Utah into Washington and down Highway 101: