After we explored Cape Flattery and Shi Shi Beach, we spent the night at Klahowya Campground. The next morning we got up and drove west towards the Washington coast. We drove through Forks, WA (any Twilight fans in the house?) and then headed to our first stop of the day…Ruby Beach.
Ruby Beach is one of my top three favorite beaches we stopped at (and we stopped at a LOT of beaches as we drove down the coast). This and Kalaloch Beach (which we are sharing about next week) are breathtaking and really emphasize the beauty of the Pacific Northwest!
As you pull up, there is a large parking lot. You have to drive down the road to get there. There isn't a ton of parking for large vehicles (like we had our truck and trailer) but we were able to find a spot.
There are bathrooms at the trailhead, so use them since there aren't any on the beach. Once you are parked and ready to go, you will follow a short trail down to the beach. This is really beautiful. It was a little chilly but it didn't rain on us. Yay. This was in July – so be prepared for colder weather on the coast if you are visiting Washington any time of the year.
There is a beautiful lookout halfway down the trail that is perfect for pictures of the beach. Be sure to stop and take it in. It really is beautiful.
Once you get to the beach, there are a lot of logs everywhere. You can pick your way through these over to the beach.
There are so many fantastic things to see here. Take time to walk up and down the whole beach exploring. There is a little "stream", caves, a rock bridge, rock formations and so much more here. We spent a couple of hours and probably could have spent two or three times that much easier.
We were lucky to be there at low tide – the beach is stunning with the sheen of water over it. The water is VERY cold – so if you get into the waves, be prepared for a little shock from the cold lol.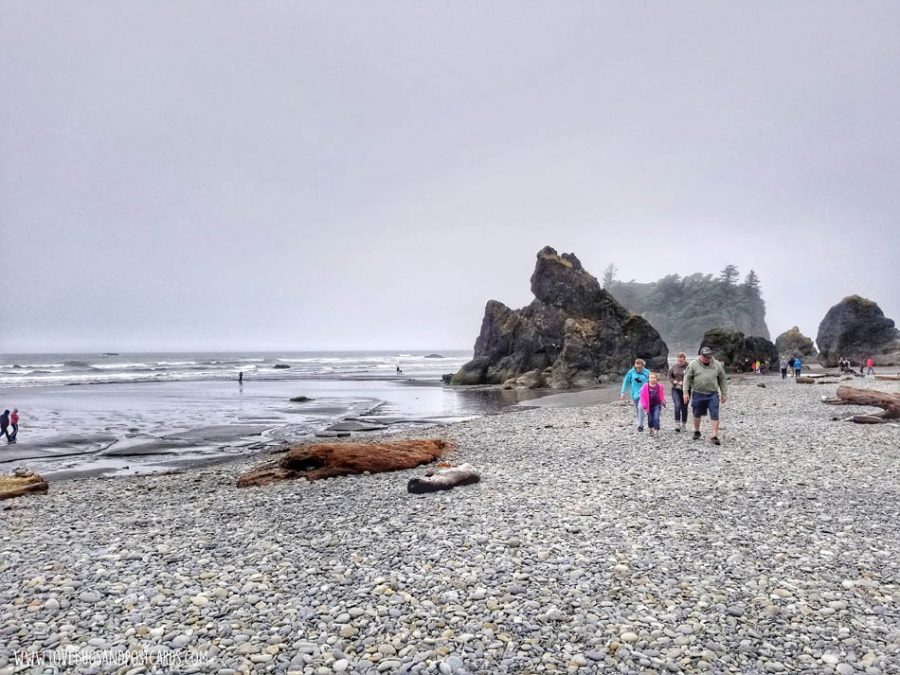 The beach is made up of rocks on the upper part and sand below to the water. Water shoes are recommended if you want to walk on the beach and a jacket or hoodie so you stay warm. It also gets a little breezy, so keep that in mind.
I would love to hear about your experience if you visit here or have visited here. What other beaches do you love in Washington?
Here is a map of how to get there in case you were wondering where it is located.
Be sure to check out our other adventures in Washington: