We were hosted at the Thunderbird RV & Camping Resort thanks to Thousand Trails. All opinions are my own.
We just got back from an amazing trip to Washington, Oregon, and California. While we were in Washington, we spent most of our time at the Thunderbird RV & Camping Resort. We have stayed at a Thousand Trails Resort before, so we were very excited to experience it all again.
Getting to the resort seems like you are out in the middle of nowhere, but in reality, you are only about 10 minutes from Monroe. In that town are a Walmart, Fred Meyer, movie theater and many other stores and restaurants.
We enjoyed so many activities while we were there! The kids loved the swimming pool and the mini-golf the most, but we were able to enjoy several different things. We also were there on the night of the 4th of July, and so we were able to walk down by the river and watch a fantastic fireworks show.
They run several different activities depending on the day/days that you are staying. One of the activities that they had while we were there was a movie night on a giant screen projector next to a beautiful fire pit while roasting marshmallows.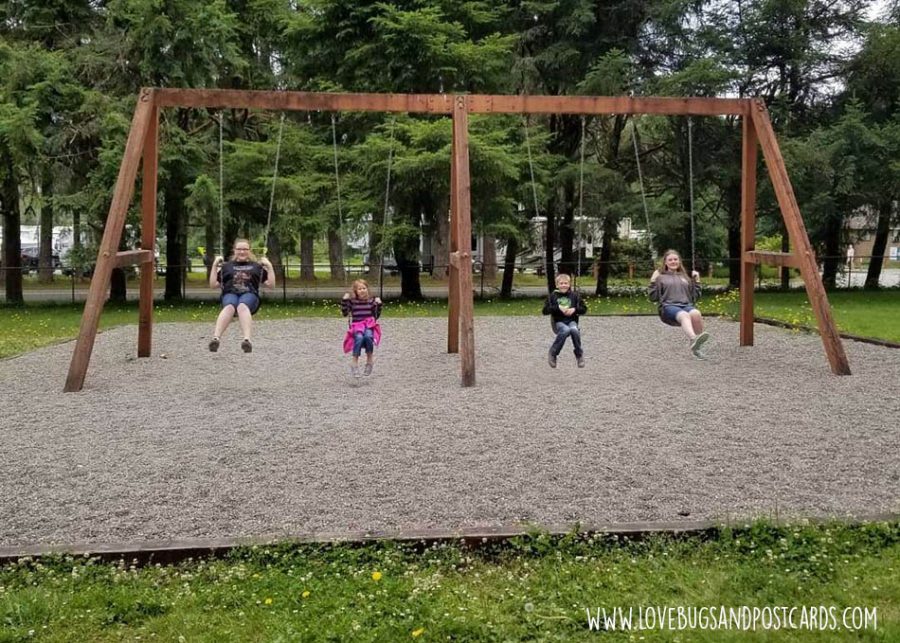 It is really easy to make a reservation. You can go online to their website at www.thousandtrails.com. You can book your stay with or without a membership. The membership gives you a discount on your stay and other benefits to not just this resort, but all Thousand Trails campgrounds.
Thunderbird RV & Camping Resort Amenities:
Unless otherwise noted, everything is included with your stay.
Swimming Pools (baby pool, 2 full size, and a hot tub)
Showers, bathrooms, and changing room
Laundry Facilities (extra cost)
Mini-Golf
Playground
Red Barn (food, activities, and more)
Wi-Fi (extra fee)
Volleyball
Basketball
Shuffleboard
Hiking trails
Horseshoes
And so much more! You can see the full list here.
While staying at the Thunderbird Resort you can camp in your trailer, stay in a tent, or stay in one of the Yurts. There are two different campgrounds, one on the riverside of the road and then across the street is the main property.
The campground is right on the Skykomish River. You can play on the water, go fishing, or just enjoy the view.
We spent a fair amount of time at the pool. I loved that it only went 5 feet deep in the center and then went to shallower water on both ends. There is a baby pool where it is only like 1 foot deep, and then a quiet pool for older guests. There is a spa/hot tub and dressing/bathrooms with showers.
My personal favorite part is that everything was so clean. Even the showers looked clean. This tells you that it is under good and professional management. I noticed the maintenance personnel out and about everyday checking on things, fixing things, and very friendly and willing to stop and talk, give advice, or listen.
The park manager did the same and made us feel like family. I have no doubt that if I chose to stay somewhere for a full summer that this is where I would love to stay. Friendly staff, clean facility, beautiful location next to the river, and low rates make this my favorite place so far.
Learn more about the Thunderbird RV & Camping Resort in Washington here.