We love traveling as a family. We recently took a trip to Washington and then drove down the coast into Oregon and California. We had an amazing time and did so much. Our first stop on the way there was Mt. Rainier. Since we only had part of a day, I want to share how to spend 1 day at Mt. Rainier so you can do it too in case you have limited time.
I traveled here years ago with my parents and loved it so I couldn't wait to share it with my kids. It was even better than I remember. We traveled in from Utah – so we came in from the east side and stayed at Lodgepole Campground. The next morning we woke up and drove through the park.
I feel like we hit several of the top stops in Mt. Rainier. I have added them as well as some others we weren't able to do. (Either because of parking issues with our trailer or time constraints). I would love your input if there are other places you feel should be on the list. Leave a comment below.
As we drove in from the east side there are several amazing viewpoints of Mt. Rainier. On a clear day, you will be able to stop by Tipsoo Lake (on the 410) and see Mt. Rainier in the background. It is beautiful!
There are a few other places like this that you will be able to stop and see Mt. Rainier. Be sure to stop and take pictures if you can see the mountain because the fog can come in quickly and obscure your view.
We took hiking packs with us on the longer hikes so we had water and snacks. We love these hiking packs we found on Amazon that comes with a water bladder and can be adjusted to fit a 7-year-old all the way up to a full-grown (plus size) adult.
How to spend 1 day at Mt. Rainier National Park
This goes from East to West. You can start at the bottom and go West to East.
Grove of the Patriarchs

Distance: 1.5 mi RT hike
Avg. time spent: 1 hour

Silver Falls Trail

This is located directly across from the Grove of the Patriarchs
Distance: 2 mi RT0.
Avg. Time Spent: 1 hour and 15 min

Picture Frame Falls

(right off the road)
10 min stop

Upper Sunbeam Falls
Lower Sunbeam Falls and Steven's Creek Falls
Reflection Lake
Henry M Jackson Visitor Center

Hike to Myrtal Falls (from visitor center) .08 mi RT hike

View Myrtal Falls from the road

15 min stop (usually have to walk a minute to see it because of parking)

Nisqually Glacier Visitor Center
Ruby Falls
Narada Falls

viewpoint 0.2 mi walk
30 min stop

Christine Falls Bridge
Cougar Rock Campground Log Bridge

1 mile RT hike to the bridge
30 min stop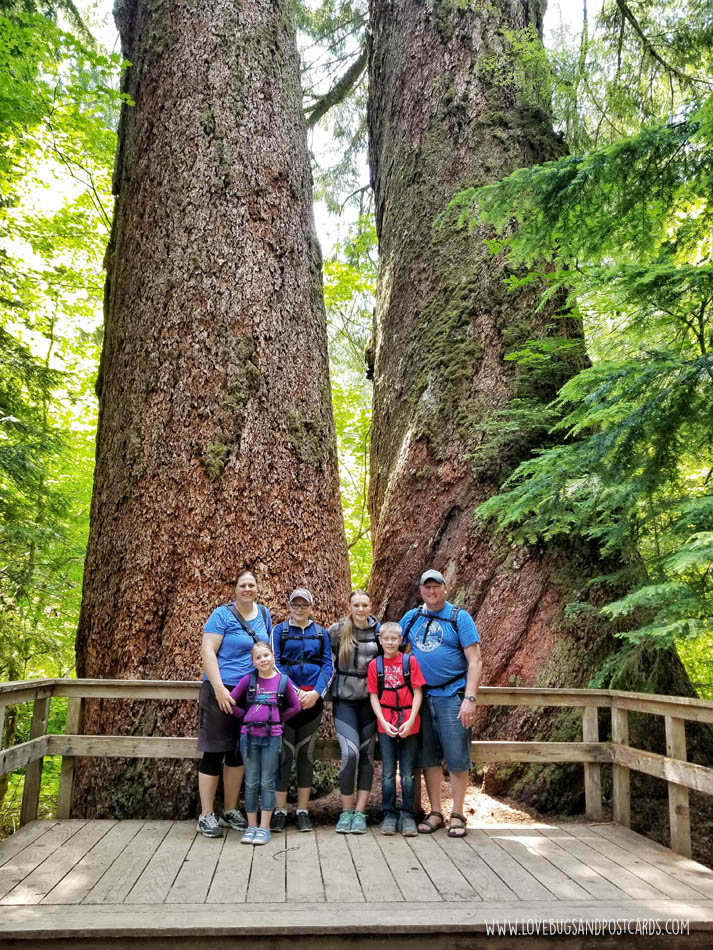 As you can see there are so many beautiful places for you to stop and see on the drive through Mt. Rainier National Park. When we go back, we will be hitting all of the ones we missed before. What is your favorite stop or what are you looking forward to seeing there? How do you spend 1-day in Mt. Rainier National Park?