We were hosted at the Thunderbird RV & Camping Resort thanks to Thousand Trails. All opinions are my own.
When you travel with your family, you want to make sure you are staying at clean, safe, fun places. That way everyone can enjoy the stay and you don't stress about anything.
I planned a two-week vacation for my family (I started back in February) and it was a lot of craziness. Getting the timing right, figuring out where to stay, what to do, where to eat, etc. It can be really time-consuming. I knew that we were going to be in the Snohomish area for several days at the beginning of our trip for a friends wedding, and so I started looking around. I came across the Thunderbird RV & Camping resort and was thrilled to find out that it was a Thousand Trails campground. We have stayed at one before in Arizona and loved it.
Nestled in what I would describe as a rainforest with trees in every direction, cool and humid air, surrounded by a few open farming fields, I knew right away that that is where I wanted us to stay while we were there. I was so happy that it all worked out and we were able to confirm our visit with them. Not only is there a lot to do at the resort, but you can take short day trips out and explore some of the best things Washington has to offer.
Here are our top 5 favorite things to do at the Thunderbird RV & Camping Resort
Swimming – the pools are heated and so fun to swim in. We swam a couple of times with the kids, but they spent many hours in the water having fun.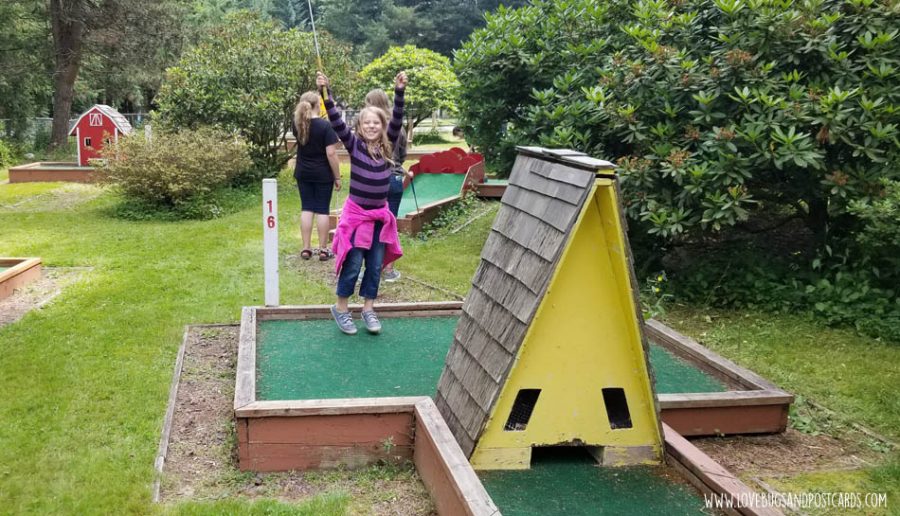 Mini Golf – We played as a family and then the kids played a couple of times on their own.

Playground – This is a big playground with a playset, swings, slides, climbing equipment and more.

The Big Red Barn – in here you can get food, do activities, relax and visit and more. They also have complimentary hot chocolate.

S'mores and Movies – We loved using our firepit to roast hot dogs and make S'mores. On one of the nights we were there, they showed a movie in the playground area and had a big fire going. This was fun. You bring your own camp chairs to sit in.
Day trips from the resort
Downtown Seattle (1 hour each way)
Waterfalls (McCauley Falls, Wallace Falls, Olney Falls, and Bridal Veil Falls just to name a few)
Hiking
Mt. Rainier (3 hours each way)
Snoqualmie Falls (45 mins each way)
Ferry ride
Drive up to Canada (about 3 hours to Vancouver, BC)
If you are staying at the resort for more than a few days then I highly recommend checking out some (or all) of the day trips. They will make your stay in the area that much better. We were able to do Snoqualmie Falls, Mt. Rainier, and a couple of others. We also spent a lot of time at the resort just relaxing and having fun. Learn more about the Thunderbird RV Camping & Resort here. And you can see all of the great campgrounds and resorts that Thousand Trails has to offer here.