You just read about The Grove of the Patriarchs (if you haven't you should 😉 ) and so you no-doubt see how beautiful this area is already. Narada Falls is one stop you will not want to miss in Mt. Rainier National Park.
The falls are spectacular. It is a short hike down to the viewpoint – which I highly recommend. You really can't experience the full beauty of the falls without going down here. It is muddy because of the mist from the falls, so be careful going up and down the trail.
While this stop is very busy, people don't spend a ton of time here so you can get a prime spot to take pictures if you are patient. You might not even have to wait at all.
As you can see, the trail is wet and a little muddy in places. It can even be slippery on the rocks, so be really careful. There is a lot of foot traffic here so just stick to the well-traveled path and you should be OK. You can take a hiking pole with you if you want to have better balance.
The views from the parking lot and from the bridge crossing the falls are both breathtaking as well. The weather this high up can be chilly, so keep a light jacket – especially with the mist from the falls. The day we went it was cloudy, but it didn't rain, so we were lucky.
Narada Falls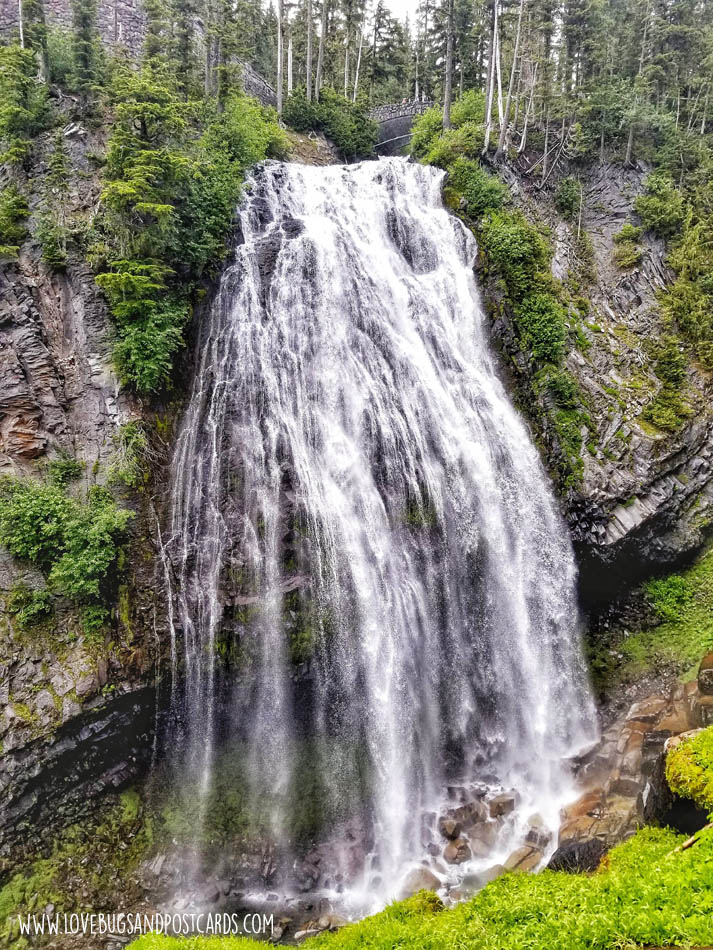 As you can see, Narada Falls is one of the most beautiful waterfalls I have seen, and it is by far my favorite in Mt. Rainier National Park. Mt. Rainier National Park is really beautiful and Mt. Rainier itself is a sight to behold. We are were only able to spend 1-day there, so we are sharing our favorites and highlights of things we recommend if you only have 1-day to spend in the park. Check back for that next week!
You can also learn more about Narada Falls here.