After we visited Ruby Beach and Kalaloch Beach (with the Tree of Life) we headed inland to the Quinault Rain Forest. This was our last stop in Washington State. We wanted to spend more time exploring the area, but we had to stick to our schedule.
The Quinault Rain Forest is located roughly 35 miles from Kalaloch Beach going Southeast. We drove straight to Merriman Falls. (This took about an hour). The parking is just the side of the road, so be mindful. And if you are pulling a trailer, like we were, you will have to drive a little past Merriman Falls for a turnaround.
Merriman Falls is simply magical. I told my husband that it is like stepping into a fairyland – or like the Moores in Maleficent. The waterfall is up high, but there is a pond to the right as you go in with several little falls flowing into it. There is green and trees everywhere. I want to go back and just stay there and soak up the beauty of it all.
After enjoying Merriman Falls, we drove back towards the entrance to the Quinault Rainforest and stopped at the Sitka Spruce tree. This is a short walk (10 minutes tops) to the bridge that crosses over the creek to the meadow that houses the World's Largest Spruce Tree.
This tree is SO BIG! We all 6 stood on it for a picture and there was room for 20 more people. You can barely see us in some of the pictures because they had to be taken from so far away to get the whole tree in it, lol.
This is the World's Largest Spruce Tree. This Sitka is over 191 feet tall, over 58 feet circumference, and has 922+ ADA Points. This tree is over 1000 years old.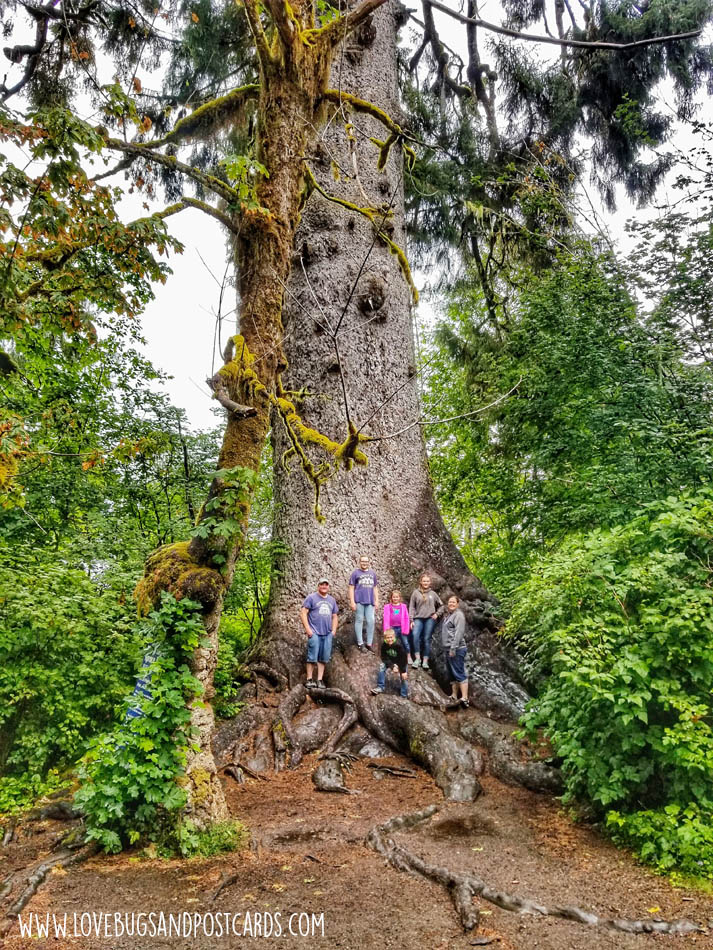 While you in the area you can also see the World's Largest Western Red Cedar, Douglas Fir & Mountain Hemlock, The United States' largest Yellow Cedar & Western Hemlock. These trees are known as the "Valley of the Rain Forrest Giants".
Definitely make this one of your stops as you tour Washington! Other places we visited in Washington:
Next week we are sharing our adventures in Oregon. Be sure to check back.