We partnered with CityPASS on our visit for a San Francisco C3. All opinions are my own.
I love visiting new places. Although I passed through San Francisco when I went there for The Good Dinosaur Event, I wasn't able to spend time exploring. So when my husband asked where I wanted to go for our anniversary, I choose San Francisco. It has been on my list for a long time and I am glad we were able to make it work. One thing that made our trip even better was the San Francisco C3! It allowed us to go to 3 attractions of our choice (from the list) for way less than we would have paid for everything together. The CityPASS is easy to use and we had so much fun with each attraction we visited.
Two of the attractions we wanted to visit most were the California Academy of Sciences and the Blue & Gold Fleet San Francisco Bay Cruise. Those two alone are more than what the cost of the CityPASS is. So you not only save a bunch of money, but you get to do more things while you are there! We had SO MUCH FUN at both of those attractions, and I am so glad we got to do them. We were torn on what to do for our last one. A few of the attractions are completely closed on certain days so that made it harder on us because of our schedule. So we chose to visit the de Young Museum. I wanted to go up in the observatory so this was a great way to hit both.
With one simple purchase, you'll save on admission to 3 top attractions in San Francisco. There's no need to choose now—decide later. Save money and enjoy the flexibility of San Francisco C3 tickets.
ONE-TIME ADMISSION TO 3 ATTRACTIONS:
California Academy of Sciences
Blue & Gold Fleet San Francisco Bay Cruise
Aquarium of the Bay
Exploratorium
The Walt Disney Family Museum
San Francisco Zoo & Gardens
San Francisco Museum of Modern Art — SFMOMA
Bay City Bike & Parkwide Bike Rentals
de Young Museum + Legion of Honor
When you buy a CityPASS you will get an email with your tickets. Just take the tickets to the attraction you want to visit (along with your ID for adults) to get your tickets. We were also required to show our Proof of Vaccination cards most of the time – so be sure to have those. We couldn't use digital copies.
Be sure to check ahead of time if the attraction is open. Some of them are close on certain days. The Exploratorium and The Walt Disney Family Museum were a couple that we wanted to go to but were closed – so just be sure to check. It is also worth rearranging your schedule to accommodate the days they are open if you can make it work.
I loved that we were able to pick and choose depending on where we were and what we wanted to do. It makes it so easy to enjoy popular attractions without having to worry about the stress of buying tickets for everything. (You might still need reservations at certain places – but we didn't run into any issues without them).
Here is a highlight of the 3 places we visited while we were there:
California Academy of Sciences
We LOVED visiting the California Academy of Sciences. There is so much to see there. The aquarium is phenomenal, there is a great penguin exhibit and an awesome display of (stuffed) animals from other regions and countries.
---
Blue and Gold Fleet Bay Cruise
One of the attractions we visited was taking a bay cruise on the Blue and Gold Fleet. This was such a fun experience and one of our favorite things we did there. I highly recommend it – and make sure you do it with the CityPASS so that you can do other attractions as well and save a bunch of money!
---
de Young Museum
The de Young Museum in San Francisco is a beautiful building filled with incredible art. We also loved the Hamon Observatory Tower (part of de Young Museum) and going up and seeing the views. Founded in 1895 in San Francisco's Golden Gate Park, the de Young museum has been an integral part of the cultural fabric of the city and a cherished destination for millions of residents and visitors to the region for over 100 years.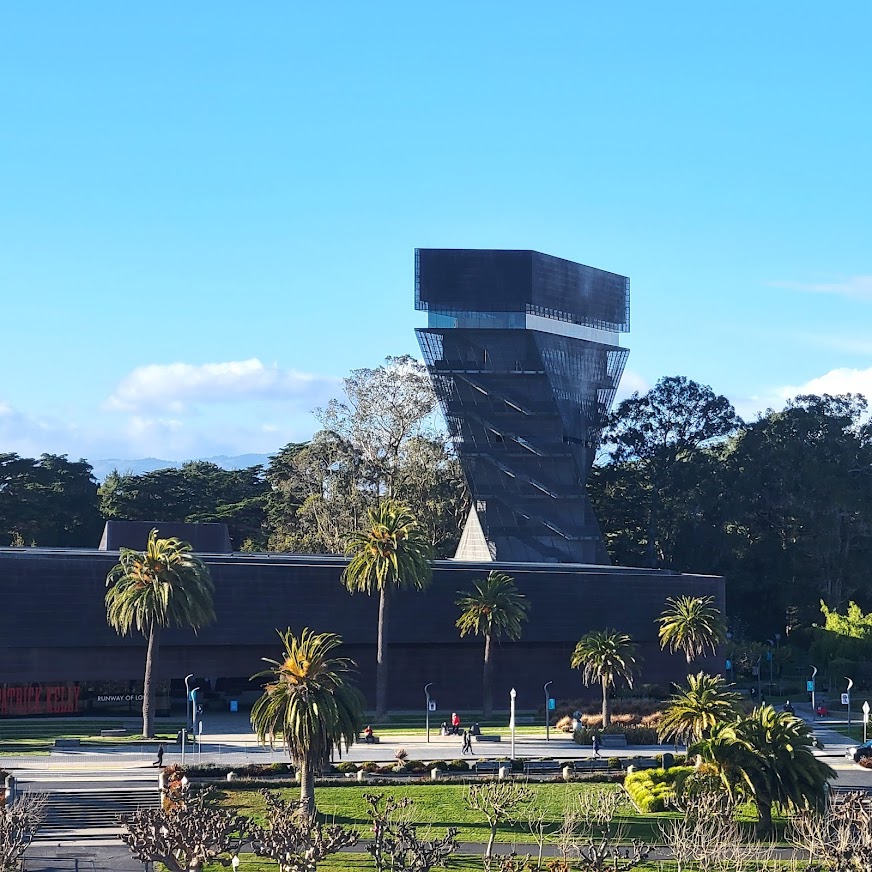 ---
Overall, the CityPASS allowed us to have fun at our pace and on our schedule and visit some amazing places we might not have otherwise gone to. If you are traveling to any of the following places, I highly recommend you get a CityPASS to save money and experience more!
To give you an idea, we went to the California Academy of Sciences, Blue & Gold Fleet San Francisco Bay Cruise, and the de Young Museum + Legion of Honor. All of these together would have been $93. The CityPASS only costs $69. If we had been able to go to the Walt Disney Family Museum or the Exploratorium – that savings would have been even bigger! I am so glad that we got the San Francisco C3 to use while we were on vacation there.
Other travel posts we think you will like:
Tuzigoot National Monument Arizona
The Needles Canyonlands National Park
Instagram worthy spots in Canyonlands National Park (Island in the Sky)
Desert View Watchtower Grand Canyon National Park
Delicate Arch in Arches National Park
Watchman Trail Hike Zion National Park