The Needles Canyonlands National Park isn't visited as much as the Island in the Sky area mainly because of the location. None of us, except my husband, had been there so we decided to make a day of it and go see it. We also stopped at Hole N' The Rock, Newspaper Rock, Wilson Arch, and a couple of other places on our way there or back. I will be sharing more about those next week.
To get to The Needles Canyonlands National Park, you have to drive for what seems like forever, lol. But the drive is beautiful and not busy. I have added a map below so you can see where to go from where you are or will be. If you are driving there from Moab, Utah like we did, it is about 1 hour and 30 minutes to The Needles Visitor Center.
I don't know if there is a better or worse way to see the park, but this is the order that we did it in and it worked out great.
Visitor Center
We stopped at the visitor center to eat lunch and buy a couple of souvenirs (stickers and pens mostly). They have covered picnic tables to eat at, and you can fill up any containers with fresh drinking water from the spout by the bathrooms. You can also explore some of the area here. My kids hiked out to a big hill and soaked in the views.
---
Cave Spring
This was by far our favorite part of the park. In fact, my kids asked if we could do the hike again because they loved it so much. There is a lot to see here and some really fun climbs and trails. You can also see the cave spring, places where natives lived, and so much more.
HIKE: 0.6 miles round-trip
Loop trail that leads to a historic cowboy camp and prehistoric rock paintings and peckings. You will climb two ladders to complete the route. You can learn more about Cave Spring here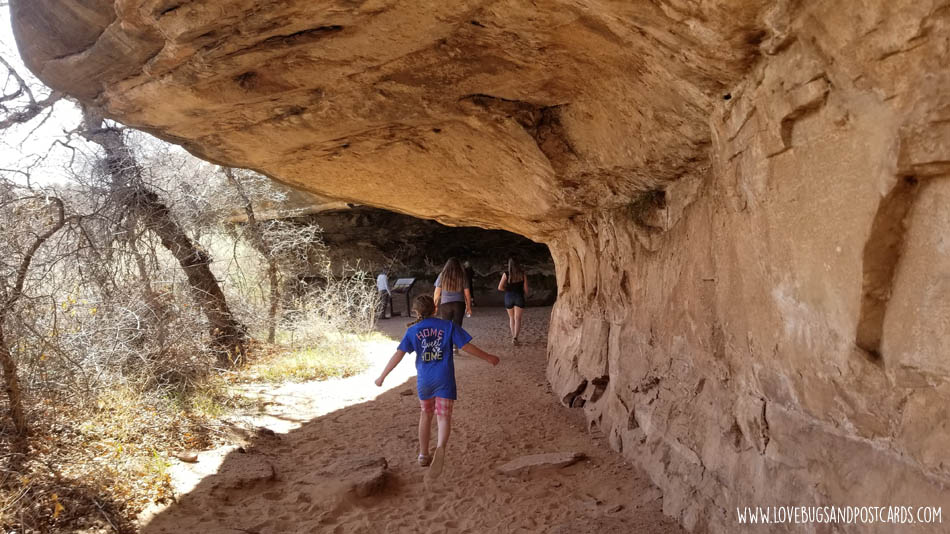 ---
Pothole Point
I am not gonna lie, I was a little sad that there was no water in the potholes lol. But it was still beautiful and we enjoyed the hike around the point. There are some "caves" your kids will love and the views from the edges are fantastic.
HIKE: 0.6 miles round-trip
Uneven slickrock leads to diverse pothole communities as well as views of the Needles. Trail follows cairns. Learn more about Pothole Point here.
---
Big Spring Canyon Overlook
There is a lot to do here, but we just drove around and grabbed a few pictures. We didn't have time for any of the hikes or other things you can do here. But the views are beautiful if you want to drive out here to see them.
---
Wooden Shoe Arch Overlook
You can actually see the Wooden Shoe Arch from almost everywhere in the park. We didn't actually stop at the overlook because I was able to use my camera to snap some decent pictures. But it can be fun to get out and get a picture with it in the background if you want/have time.
---
Roadside Ruin
This was a great little hike with a lot of different things to see on the way (nature/plants/etc. The ruin at the end of the trail is so cool and unique. This only takes about 10-15 minutes and I think you will love seeing it
HIKE: 0.3 miles round-trip
A short trail leads to a storage structure built by indigenous people. Learn more about Roadside Ruin here.
---
The Needles Canyonlands National Park
Overall, we spent about 4 hours from start to finish. This included our stop at the visitor center, and lunch. We just relaxed and had fun, enjoying the beautiful views. I would plan a whole day for this trip because of driving time, spending time in the park, as well as a few stops on the way there and on the way back. You will want to stop at Hole N' The Rock, Wilson Arch, and Newspaper Rock for sure. These are all amazing places that you won't want to miss and they are on the way (right off the road).
Have you been here before? What did you love about the area?