I have a teenager. In my mind – I feel like I have been raising a teenager for a lot longer than the 6 months she has officially been 13 – and my almost 11-year-old is already in the teenager attitude mode (but not nearly as often). I get it. I have been there. I was a teen once. That is how I know that getting into an argument with your teen is inevitable… 
You couldn't pay me a million bucks to go back and relive my 13 to 15-year-old years of school. The drama, emotions, puberty, drama, competitiveness, friends (or lack thereof), emotional craziness, oh wait and did I mention drama? are way more than I could ever deal with again. I have so much more love for my parents and empathy for what I put them through.
Raising a teenager is almost as hard as being one.
You go through it all again as you watch them day after day while trying to help them through the same trials that you went through and no idea what in the h### you were doing then either. Not much has changed really.
And even though you have pure sympathy for what is going on in their life, you want to raise them to be strong, fearless leaders who can "rule the world" someday. Humans who give service, are considerate, talk WITH others (not to them), respectful, and loving.
As parents, we work our butts off to "provide them with everything we never had" and give them every opportunity. We love our kids more than life, but often feel like we are going to explode because we are constantly arguing with them about everything under the sun.
Ok. It's not that bad. But it seems like it…I mean they do sleep and eat and when they are playing on their phones they are generally quiet. It is like waking a sleeping dinosaur when you try and talk to them about something when they are in the middle of any of those things. Especially the phone one.
It's actually relatively easy to get into an argument with your teen. Something as simple as looking at them wrong or saying hi can really be big kickers. A sibling who is making noise or doing something that they don't like (even if they did that same thing themselves 5 minutes previous) are also high on the list. 😉
Just to be safe, I made a list of 10 surefire ways to get into an argument with your teen, so you can be sure to avoid these.
Asking them to shower.
Telling them they have to hang up their clothes/ clean their room.
Reminding them to do their homework.
Making them do their chores before they can have free time.
Tell them they can't watch a movie or play on their phone/tablet while they are eating, especially during family meals.
Enforcing a bedtime.
Enforcing a curfew.
Making them turn their phone in every night.
Ask them what they are wearing/ asking them to change.
Limit their video game playing time
I can guarantee that even if you avoid these, you will still get into arguments with them, probably over these same things. It will just be about a different aspect of it. Instead of them getting mad that you asked them to shower, they will be mad about the length of time that they have to shower in.
There will ALWAYS be a variable…so be prepared for all of the different scenarios. You won't ever know all the answers, but you will most likely be able to handle most situations. That most likely will come with experience and by the time they have graduated and are ready to move out, you will finally know all the answers.
At the very least we (as parents) will have figured out a way to win the argument (most of the time).
Sidenote: I LOVE my kids with everything that I am. This is just a peek into the harsh reality that comes with raising kids and I wanted to share it in a funny light. I hope it made you smile and laugh. My kids are my life. There is nothing I wouldn't do for them. Including telling them when they are being a PITA (Pain in the ARSSS 😉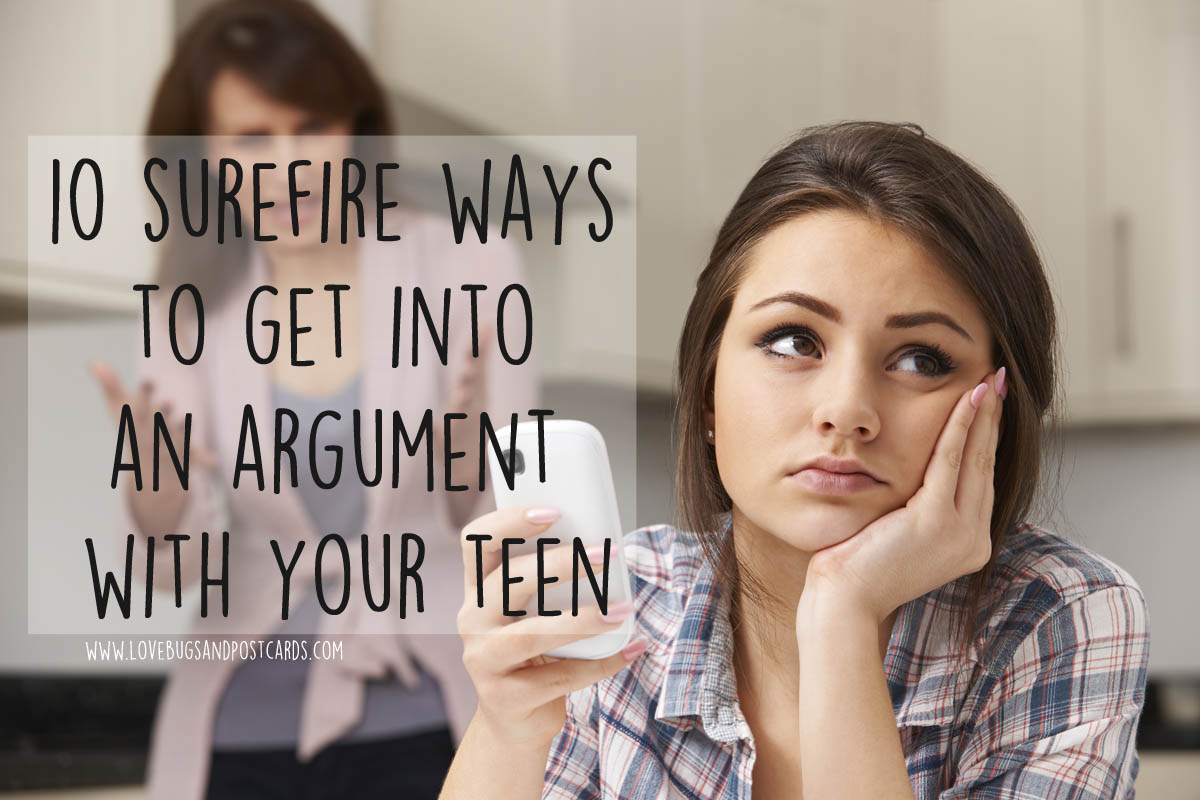 What words of advice do you have to share? What has helped you (or not helped) as you get into an argument with your teen?