With summer heating up – I like to have yummy cold drinks all the time. Making homemade strawberry coconut lemonade not only tastes amazing – but it is full of real fruit and that is always great to put into my kids. It is very easy to make and always a hit. You can make it with peaches, pineapple, mango, and many other yummy fruits – or even combine them like I did with strawberries and coconut.
Ingredients
Favorite Lemonade
Frozen Strawberries (or fruit of choice)
Fresh Grated Coconut
Instructions
Fill blender about 3/4 way full with Lemonade
Add 1/2-1 cup of ice
Add 4-5 frozen strawberries
Add 1/4-1/2 cup of fresh grated coconut
Put lid on tight and pulse for about 5-10 seconds or blended until desired consistancy
https://www.lovebugsandpostcards.com/strawberry-coconut-lemonade-recipe/
Printed from www.LovebugsandPostcards.com
This also fun for your kids to help you make and let them be creative with what they add. This is a great addition to any meal or just to have as a snack. We have this all the time, but especially when we have BBQ's. YUM!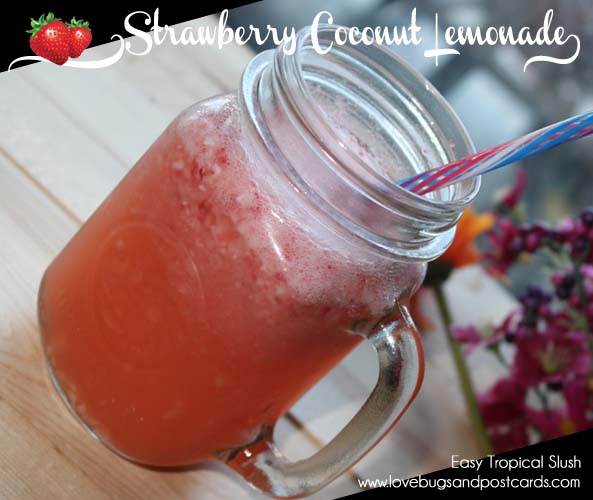 I would love to hear what kind of combinations you come up with and what you think of this easy strawberry coconut lemonade real fruit slush drink.