This summer has been a lot of fun and we have kept busy doing crafts, playing games and going on adventures. One thing I like to try and do is upcycle/recycle whenever we get the chance and toilet paper rolls are a perfect opportunity to teach my kids about that as well. They have so many uses but we have been doing a bunch of different toilet paper roll crafts and I want to share some of them with you. We got a package of Cottonelle at Walmart, and have been saving the rolls (but with 4x times more paper on the roll, we don't change them near as much). With Cottonelle Mega Rolls you get four times more sheets per roll compared to the leading single roll of ultra-strong tissue. And more sheets equal less changing the roll, less buying bath tissue, and less hassle. Before we get into the crafts, I also wanted to share that you can save money on Cottonelle Toilet Paper at Walmart with Ibotta. Click here to get the coupon. You may also be able to place your order online and pick up your groceries. You can check that here.
Today we are sharing 5 fun toilet paper roll crafts you can do with your kids. These are so much fun and easy to make, but they will take up a couple of hours of your afternoon creating and building. Some supplies you will want to have for this is:
Toilet paper rolls
Acrylic paint
Paint brushes
Construction paper
Hot Glue and Glue Sticks
Crafting wire
Scissors
Cardstock
Watercolors
The ideas we are sharing with you today for toilet paper roll crafts are: Treat Box Owl; Toilet Paper Roll Fish; Toilet Paper Roll Cats; Patriotic Napkin Rings; and Red, White, and Blue Firecrackers.
TREAT OWL BOXES
To make your toilet paper roll owl boxes, you will need to take a toilet paper roll and fold the ends as shown in the picture. Do one end and glue it, then fill the box and do the other end. Decorate the outside of the box as desired. Different layers of paper give it a dimensional design and look really cute Large circles and medium circles layered are perfect for the eyes. A little orange triangle will make the beak. These are great for an everyday craft, or to use at parties for favors or even give as class birthday party treats.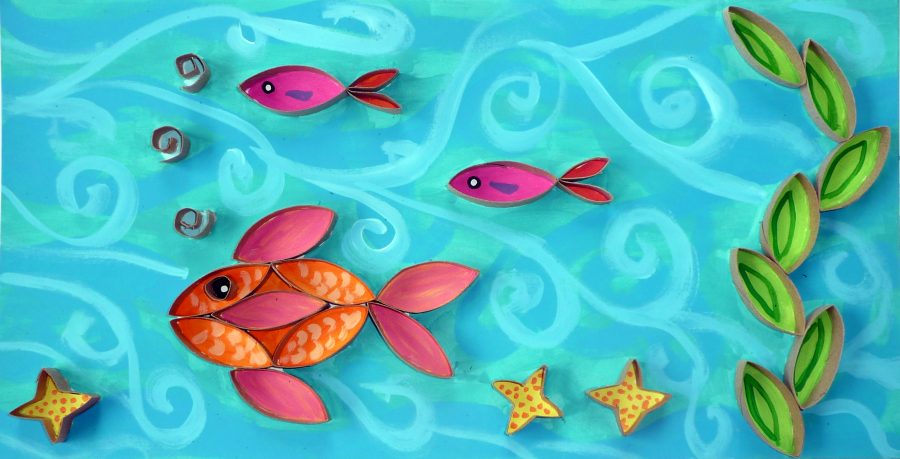 TOILET PAPER ROLL FISH
These are simple to make and really cute. For these, you will need a piece of cardstock for the background (use blue or paint it how you want with watercolors). Once the background is done you can work on making the fish. Cut thin (not too thin) slices of the toilet paper roll. Take a slice to make the body and then take another slice and fold it in half and this will be the tail. For bigger fish, you can put multiple slices together to create it. Use can also use the slices to make starfish, seaweed bubbles and more. Glue all the pieces down with hot glue and let dry. You can use Elmer's glue, but it takes a while to dry.
TOILET PAPER ROLL CATS
These cats are cute. My kids all love cats because we have a cute kitty, so this was something they really enjoyed. Cut the rolls to different heights and then fold the top over (like we did with the owl). With the edges poking up to look like their ears, you will add a piece of black craft wire for the tail. Paint it black (or whatever color you want) and then add or paint eyes and a nose. You can use more of the craft wire for the whiskers.
PATRIOTIC NAPKIN RINGS
These are perfect for the upcoming holiday weekend! A great way to add some color to your table without spending a lot of money (if any). All you need is a toilet paper roll cut into thirds, and red, white and blue paper or tape. You can also get star stickers and add them on. Get creative with your patterns or make them all the same. Once they are done, pull a napkin through it and set the table or you can add silverware and put them on the table for people to grab as they go through the line to dish up.
RED, WHITE, AND BLUE FIRECRACKERS
Another fun patriotic craft you can do for this weekend is making toilet paper roll firecrackers. You can do these a couple different ways, but they all look fun and festive. You can make them red or white or blue or mix the colors together on one to make it red, white, and blue. You may also choose to make a flag on a few of them. A lot of fun patterns to choose from. Get creative and have fun. For the tops, you can use craft wire for the fuse, or multi-color tinsel to make it look like it is sparking.
I hope you have enjoyed these toilet paper roll crafts and will make something of your own. I would love to hear what you have made or plan to make. Spend more time having fun and being creative and less time changing your toilet paper rolls. Learn more about the Cottonelle Mega Rolls at Walmart.