This post is brought to you by ShopShare Network. All opinions are my own.
Salt Lake City, Utah is a great place to vacation, and it is a fun place to visit – even when you live close. I have lived in the "valley" for about 10 years now, and have found so many fun and interesting things to do with my family – and there is a good mix of free events and places to visit to venues to enjoy games, etc. Go to a NBA game and see the Utah Jazz play, go watch the Utah Grizzlies play a hockey game, you can see Real Salt Lake play a soccer game and so much more. You can watch Broadway shows at the Capitol Theater downtown or catch a play at the Hale Center Theater. There are plenty of museums, as well as a Zoo, Aviary, Aquarium and more!
You could visit for several days and have a hard time seeing everything, so to help you decide on what you want to do while you are either visiting the area or planning a family activity or staycation like we did, you will have lots of things to choose from. Also keep in mind that Park City, Utah (famous for Skiing and the Sundance Film Festival) is only about 30 minutes to the East, Antelope Island is about 30 min. North and there are many other great places to visit close by. I am going to share our top 20 things to do in Salt Lake City, Utah, along with where we stayed while we were there on our staycation. I would love to hear your favorite things to do in Salt Lake City as well.
Visit the Great Salt Lake (free)
Visit Temple Square (free)
Drive to the Ensign Park overlook (free)
Visit the State Capitol building (free)
Go to Vivint Smart Home Arena for an even
Go to the Maverik Center for an event
Visit the Museum of Natural History
Visit Hogle Zoo (some free days in the winter)
Go to Tracy Aviary
Spend an afternoon at Wheeler Farm (free)
Catch a college sporting event
Watch a play at Hale Center Theater
Walk through Red Butte Garden and Arboretum
Visit Clark Planetarium (free)
Go to the Leonardo Museum
Visit This is the Place Heritage Park
Walk around Memory Grove Park (free) and go for a horse-drawn carriage ride
Go to the Gilgal Sculpture Garden's (free)
Walk through the International Peace Gardens (free)
Go to a Salt Lake Bees game at the Smith's Ballpark
Most of these are within a 30-minute drive from downtown – but we decided to stay in West Valley City, Utah (10 mins from downtown) at a place called Staybridge Suites. It is really easy to access from I-215 and is located within walking distance to several places like the Hale Center Theaters, Maverik Center, and several restaurants. A short drive away is the Valley Fair Mall with an IMAX theater, great shopping and even a discounted theater with only $3 tickets. The hotel also offers a free shuttle service, so be sure to check with them for more details on that.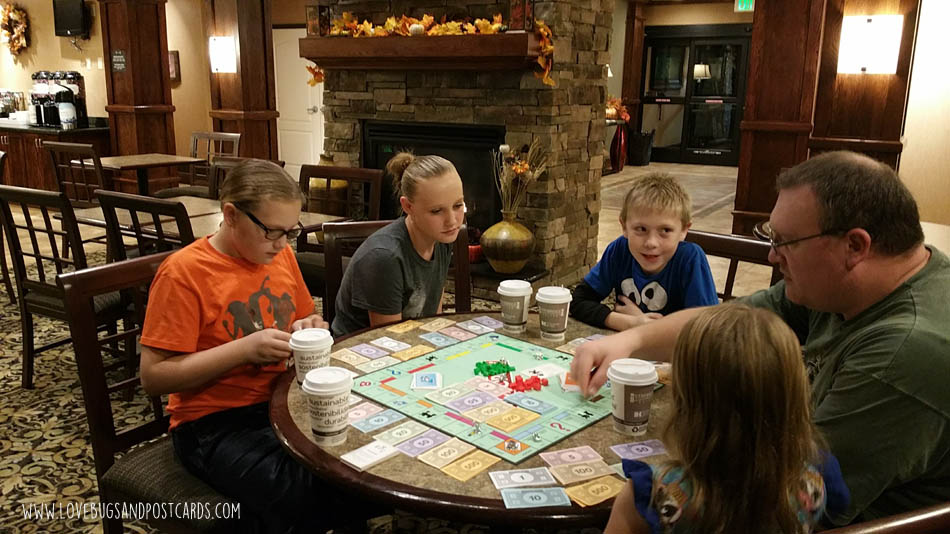 We stayed in a beautiful 2 bedroom suite at Staybridge Suites – the kids had their own room with two queen beds and my husband and I had our own room with a king bed. Plus, there is a living room and kitchen area that connects the two rooms together. My kids' favorite parts of the night were swimming in the fun Grins & Fins Waterpark and staying up half the night playing Monopoly in the hotel dining area, enjoying the complimentary hot cocoa and drinks. It was so much fun and we were able to enjoy some fun things while we were there as well.
If you are going to be visiting the area, I highly recommend staying at Staybridge Suites. Find some fun things to do in the area and have a great vacation/staycation. If you looking for something to do in Salt Lake City, you will be able to find a great adventure no matter where you look!
What are your favorite things to do in Salt Lake City, Utah?