FREE Admission Days in Utah
Here is a great list of the free days offered by Hogle Zoo, Tracy Aviary, The Loveland Living Planets Aquarium, Utah Museum of Fine Arts and Red Butte Gardens! They are all throughout the winter, but they are a great way to get out of the house and enjoy (a usually expensive) fun activity for FREE or really cheap!
---
Night at the Museum
BYU's 7th annual Night at the Museums event is on February 7, 2020! This FREE event showcases all five campus museums as venues for music, refreshments, activities, and more!
Free shuttles (8 years and older) will be available to take visitors between museums.
Museums to visit: Monte L. Bean Life Science Museum, the Museum of Art, the Museum of Peoples and Cultures, Education in Zion, and the Museum of Paleontology. Get more information about BYU Night at the Museums here.
Easter Family Night
They will also be an Easter Family Night at the Monte L. Bean Life Science Museum on April 6, 2020.
Join them for a family night of fun! There will be live animal shows, crafts, scavenger hunts with prizes (NO CANDY), and a photo booth. NO easter egg baskets needed! As always, admission is free!
Get more information here: https://www.facebook.com/events/478826292749087/
---
Chinese New Year Event and Fireworks
Come take part in a communal and cultural experience as they celebrate Chinese New Year! They will have face painting, music, live entertainment, and a Traditional Chinese Lion Dance!
They will also be giving away Traditional Chinese New Year Tokens, along with good luck citrus provided by Trader Joes. An Asian Ice Sculpture will be located in The Orchard. Come before the event to see the artist working on the sculpture.
To end with a bang there will be a firework show at 8:00 pm. The fireworks will be launching from the north parking lot. Get more details here:
https://www.universityplaceorem.com/events/chinese-new-year-event-fireworks/
---
I think my most favorite FREE Admission days are the ones at Hogle Zoo, and that's mostly because of my kids! They LOVE the Zoo! We have gone in the winter a few times and while it is a little chilly, it is so fun because the animals are so active! Just bundle up and take hats and gloves to keep your head and hands warm. I also recommend boots to keep your feet from getting cold over the extended amount of time you will be outside.
This year, Hogle Zoo is doing things a little differently. They are offering EVERY Wednesday in November and December FREE (but they are closed Christmas Day). How fun! That means you will have a lot of chances to go explore. You can even buy tickets for Zoo Lights and stay a little later to enjoy the beautiful lights and meet Santa!
The Zoo is open from 10 am – 5 pm for free admission. No ticket is required. Just show up and enjoy 🙂 You can read more about the Wild Wednesdays at Hogle Zoo here.
FREE DAYS AT HOGLE ZOO IN 2019:
Wednesday – November 6, 2019
Wednesday – November 13, 2019
Wednesday – November 20, 2019
Wednesday – November 27, 2019
Wednesday – December 4, 2019
Wednesday – December 11, 2019
Wednesday – December 18, 2019
If you are looking for discounted tickets, there are a few offers you can take advantage of, like BOGO Free tickets or discounted admissions. See the current promotions on the Hogle Zoo website here.
---
We have gone to Tracy Aviary often since living in Salt Lake! Each time we go, our kids love it just as much as our first visit. There are so many birds there and they are all so interesting and neat to watch and see. I think my favorites are the Flamingos. They are so cute!
This winter (2019-2020) they are offering $1 admission the first Wednesday of the month November-February. This is their Winter Days $1 Promo.
FREE DAYS TO TRACY AVIARY:
November 6th, 2019
December 4th, 2019
January 8th, 2020
February 5th, 2020
They are open from 9 am to 5 pm so you have plenty of time to explore the Aviary. You can see other promotions that the Aviary runs on their website here.
Be sure to sign up for their newsletter (visit tracyaviary.org) to get a monthly newsletter with all their upcoming events and special admissions.
---

The Loveland Living Planet Aquarium is dedicated to cultivating public interest in the environment, conservation, and the enhancement of our planet and its creatures through adoption, education, research, and recreation. We have gone to Living Planet Aquarium dozens of times, and it is just as interesting each time. My kids especially love the penguins, otters, and Sharks.
On November 4, 2019, admission is only $2 a person. This is a huge discount and will probably be packed- but too good of a price to pass up.
On November 11, 2019, Veterans and their immediate family members can get into the Aquarium for free.
If you are wondering what the aquarium is all about, you can read about our visit to the Haunted Aquarium.
---
I have never been to the Utah Museum of Fine Arts, but often thought it would be a fun experience My kids love to paint and do crafts and all of that, so I am sure that they would enjoy looking around at everything too.
The UMFA offers Free Admission ALL YEAR ROUND on the first Wednesday of the month and the third Saturday of the month. There are FREE Crafts on the Third Saturday as well! You can't beat that! I am looking forward to going and taking my family out for a FREE fun and educational day. Military families can get in for free any day of the year.
If you can't make it on one of those days, they are also offering $5 admission after 5 pm on the 2nd, 3rd, 4th, and 5th Wednesdays of each month.
FREE ADMISSION TO THE UMFA:
Every First Wednesday
Every Third Saturday
UMFA members | FREE
U of U students, staff, and faculty | FREE
Students at public Utah universities | FREE
Utah Horizon/EBT cardholders | FREE
Active duty military families | FREE
---

The Natural History Museum of Utah is an amazing experience. If you haven't taken your family, be prepared to spend the day (and bring a camera!). There are four free days at the NHMU in 2017-2018 each, so mark them on your calendar.
FREE DAYS TO THE NATURAL HISTORY MUSEUM OF UTAH IN 2019
Monday, January 7, 2019
Monday, June 3, 2019
Monday, August 26, 2019
Monday, December 16, 2019
Advance reservations for Free Day will be made available online at 10:00 a.m. Mountain Time on Tuesday a week prior to each scheduled Free Day.
A limited number of tickets will be set aside for visitors who arrive on Free Day without a ticket. They encourage you to come to the Museum on Free Day even if you don't have an advance reservation. If tickets are still available, you will be admitted. You may be asked to wait until later in the day and, unfortunately, you may be turned away.
FREE DAYS TO THE NATURAL HISTORY MUSEUM OF UTAH IN 2020
January 13 to March 31, 2020
April 3 to June 30, 2020
July 2 to September 30, 2020
October 5, to December 24, 2020
Beginning in 2020, each ticket issued can be used on a single day of your choosing over a three month period—with some restrictions, but much more flexibility than in the past. Learn more about this new program and when you need to reserve tickets so you can take advantage of the Free Days at NHMU offer here.
If you can't make it on a free day, Admission is only $5 for all ages after 5 p.m. On Wednesdays. Wednesday evening they are open until 9 p.m, but the last admission is sold at 8:30 pm.
View their upcoming events here
---

We love going here and exploring the gardens. There is so much to see and my kids love the ponds.
FREE DAYS AT RED BUTTE GARDEN for 2019:
Friday, April 26, 2019 (Arbor Day)
Wednesday, July 24, 2019 (Pioneer Day)
Monday, September 2, 2019 (Labor Day)
Monday, October 7, 2019 (Zeke Dumke, Jr. Day)
Saturday & Sunday, December 7 & 8, 2019 (Annual Holiday Open House & Art Fair)
FREE DAYS AT RED BUTTE GARDEN for 2020:
Friday, April 24, 2020 (Arbor Day)
Wednesday, July 24, 2020 (Pioneer Day)
Monday, September 7, 2020 (Labor Day)
Monday, October 5, 2020 (Zeke Dumke, Jr. Day)
Saturday & Sunday, December 5 & 6, 2020 (Annual Holiday Open House & Art Fair)
---
Discovery Gateway is an amazing place to visit with your kids! If you have never been there or you have been there 100 times, your kids will love to explore, play and create and Discovery Gateway! They have so much to do there and it fits all different ages!
From a real Helicopter to a life-size horse and everything in between, your kids will have so much to do for hours. It's a great place for parents to connect with your kids and have fun playing and exploring too!
They are having discounted admission on January 22, 2020, for their Homeschool Day!

Wednesday, January 22 | 10am – 6pm
Educational Workshops | 10:15am – 12pm
Students $5 | Siblings $5 | Adult Chaperone $0
Students are required to provide an affidavit
At Discovery Gateway they know that not every student is the same and not every school is either, that's why they have Homeschool Days, so your student can come and learn through play. They'll have fun in their special workshops that explore art, science, language, music, healthy lifestyles, careers, and more! They will be offering programming such as Spanish Storytime, Coding, and learning about the hidden mathematics in music! Guest Author D.K. Ackerman will be reading her book, Princess Pirates at 11 & 12 in the Curiosity Shop!
Get more details here: https://www.discoverygateway.org/event/homeschool-day-5/
---
Admission is always free to get into Clark Planetarium and explore their exhibits. They have tons of interactive things you can do with your kids, even a gravity station. It's awesome! They have shows/movies for a fee. Outside Clark Planetarium is the Gateway Mall, and there is a huge splash pad that is free. It is a great way to spend a day with your kids for FREE!
There is underground parking here, and you can validate in the Planetarium to get really cheap parking as well.
---
Exciting news! If you have a fourth-grader you can get a FREE NPS Park Pass! Thanks to the Every Kid In A Park Program, you get free access to hundreds of parks, lands, and waters for an entire year. Visit https://www.everykidinapark.gov for all the details and to get your free pass!
FREE Admission to National Parks in 2019:
January 19: Birthday of Martin Luther King, Jr.
April 20: First day of National Park Week
August 25: National Park Service Birthday
September 28: National Public Lands Day
November 11: Veterans Day
FREE Admission to National Parks in 2020:
January 20: Birthday of Martin Luther King, Jr.
April 18: First day of National Park Week
August 25: National Park Service Birthday
September 26: National Public Lands Day
November 11: Veterans Day
Get all the details here for the NPS free days.
We made an extensive travel guide of all of the National Parks, Trails, Monuments, and Recreation Areas that are in Utah. Check it out here.
We also just shared a Road Trip guide to the National Parks in Utah that you can read here.
Here's a tip-265 of your 398 national parks NEVER charge an entrance fee.
---
The Lights at Temple Square are truly amazing! Temple Square is open from 9 am to 9 pm every day. They light the lights around or just after Thanksgiving. There is a beautiful nativity
Take your family to go see this beautiful free display and be sure to take your camera too! Dress warm, it gets really cold, but they have to two large visitors centers you can go in to warm up and look around as well. It usually lasts from right after Thanksgiving until the end of December.
---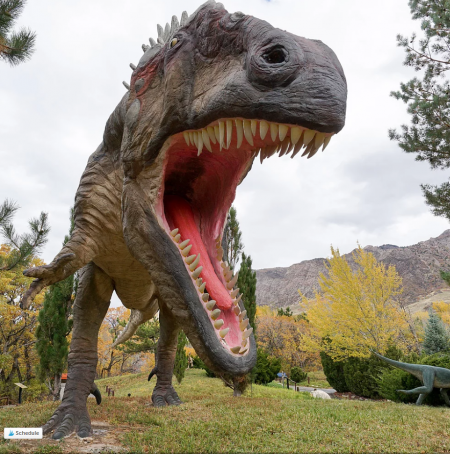 Weber County RAMP just released its 2019 calendar. These FREE Days are something are great for family entertainment without breaking the bank. You can preview the calendar here and save it or mark the days on your phone so you don't forget! We usually plan 2-3 of the free activities each weekend and go to multiple places.
---
ELF DISPLAYS & ELF SCAVENGER HUNT at GARDNER VILLAGE
Nov 23, 2019 thru Dec 31, 2019
You don't need a ticket on the Polar Express to see Santa's magic in action. Gardner Village brings the North Pole to you with our whimsical elf displays. See Santa's helpers at work, testing toys, sorting letters addressed to Mr. Claus, and maintaining those all-important Naughty and Nice lists. (Where does your name fall?)
For added festivity, turn your enchanted elf tour into a game by downloading the Elf Scavenger Hunt form beginning November 23, 2019. It outlines a full list of mischievous elf displays waiting to be discovered. And don't forget to document your elf encounters. Snap an elf selfie and share it on Instagram using the hashtag #elfieselfie and #findanelf.
---
Hill Aerospace Museum
Hill Aerospace Museum is located on approximately 30 acres in the northwest corner of Hill Air Force Base, Utah. The museum, which opened in 1986, was founded in 1981 as part of the United States Air Force Heritage Program. The Hill Aerospace Museum is an Air Force field museum operating within the guidelines of the United States Air Force Heritage Program, AFI 84-103, U.S. Air Force Heritage Program. In addition to the Air Force, the major supporter of the Hill Aerospace Museum is the Aerospace Heritage Foundation of Utah, a non-profit, private organization authorized to operate on Hill AFB for the specific purpose of supporting the museum.
The museum is open from 9 a.m.-4:30 p.m. Monday through Saturday. Admission is FREE.
Every summer Hill Aerospace Museum has a STEM summer passport program. Learn more about that here.
Santa will be at Hill Aerospace Museum on December 14, 2019.
---
Ogden Christmas Village
From the Saturday after Thanksgiving – January 1 in Ogden Municipal Gardens you can enjoy the Ogden Christmas Village.
Christmas Village illuminates Ogden's downtown area with magnificent displays and holiday lights every year from the Saturday after Thanksgiving through January 1. Spectators find themselves in a dazzling winter wonderland set aglow with Christmas lights and a unique setting of cottages modeled after Santa's village at the North Pole.
---
Christmas In The Wizarding World at The Shops at South Town
Christmas in the Wizarding World is reminiscent of the setting and atmosphere of a wintry Hogsmeade village featuring a specially curated selection of Wizarding World merchandise. The engaging shop offers an extensive wand assortment, film-inspired window displays, and enhanced green screen experience, among other interactive elements.
THIS IS THE LAST YEAR THIS DISPLAY WILL BE HERE. It is open Monday through Saturday 11 a.m. – 8 p.m. and Sunday noon through 6 p.m.
---
Sleigh Rides at Hardware Ranch
Hardware Ranch WMA offers a unique opportunity to get up and close to wild Rocky Mountain Elk on a horse-drawn sleigh.
Located at the top of Blacksmith Fork Canyon in northern Utah — provides habitat that supports a variety of wildlife species and public access for wildlife viewing, hunting, fishing, and other outdoor recreation. Public rides through the elk feeding grounds are popular during winter months.
During the winter months, the Utah Division of Wildlife Resources feeds between 500 and 600 Rocky Mountain Elk in the big meadow near the visitor center each day. The grass hay used to feed the elk — approximately 300 tons — is grown on the WMA throughout the summer
Beginning Dec 6, 2019, until Feb 9, 2020, Hardware Ranch is open Fri 12 noon – 4:30pm, and Sat & Sun 10am – 4:30pm. Tickets are sold in the Visitors Center. $5 ages 9 & up, $3 ages 4-8, children 3 & under are FREE.
Every Friday, Saturday, & Sunday from Dec 6, 2019, to Feb 9, 2020. Learn more about Hardware Ranch here.
You can also read about our experience at Hardware Ranch here.
---
Utah State University Eastern Prehistoric Museum
Nestled in the heart of a resource-rich archaeological, paleontological and geological playland, the USUEastern Prehistoric Museum has much to offer in diverse prehistoric subjects. One thing that makes the museum so unique is that the items on display were actually discovered within a stone's throw of the museum location! Dinosaurs and other finds from that region are world-famous, but only there can you see them surrounded by their original context.
You can get free admission to the museum on all Federal Holidays and Pioneer Day. This is a really fun museum that we have visited a few times and my kids have always loved it. Just in case you are wondering, this is located in Price, Utah.
FREE ADMISSION TO THE USUEASTERN PREHISTORIC MUSEUM:
New Year's Day – 1/1/2020
Martin Luther King Jr. Day – 1/20/2020
President's Day – 2/17/2020
Memorial Day – 5/25/2020
Independence Day – 7/4/2020
Pioneer Day – 7/24/2020
Labor Day – 9/7/2020
Learn more about the museum here
---
Peery's Egyptian Theater
Built in an era of sumptuous movie palaces, the 1924 theater has been returned to its original elegance. Designed to replicate the courtyard between two Egyptian temples, the building was constructed during a time when the discovery of King Tut's tomb sparked the nation's interest in Egyptian history and stoked imaginations.
Once again, Peery's Egyptian Theater boasts state-of-the-art technology, including the restored atmospheric lighting which resembles a setting desert sun evolving into a sparkling night cosmos. The modern stage house is designed to accommodate live theater, dance, choral, symphonic and multimedia performances as well as film. The theater is now home to a performance series, a film series and is a screening venue for the Sundance Film Festival.
FREE ADMISSION TO SHOWS AT PEERY'S EGYPTIAN THEATER:
---
---
If you know of other events please let me know and I will add them. I would love to make this a more extensive list – so leave a comment and I will add it to the list. Thanks!