This St. Patrick's Breakfast Ideas post is in partnership with Zak. All opinions are my own.
We just got the new insulated stainless steel tumblers from Zak. I can't tell you how much I love these. With the vacuum insulation and beautiful design, you will want to get rid of all of your other glasses. I also love the lids and the openings for straws.
Since we don't drink alcohol, we use these for other things like smoothies, sodas, juices and more. With St. Patricks Day is coming up soon, we celebrated with a fun St. Patrick's breakfast and had fun dressing up as a leprechaun.
I made triple berry smoothies and muffins. The tumblers kept the smoothies cold for several hours. It was great! (Mine was the only one that lasted that long…but I liked that I didn't have to drink it so fast and it still stayed cold).
While we were having our St. Patrick's Breakfast, we had so much fun with the St. Patricks party supplies we got. My kids took turns dressing up and dancing around while enjoying their breakfast. They loved these tumblers even more than I did. They are really easy to clean (you can put the lids in the dishwasher, but handwash the cups) and they are very durable.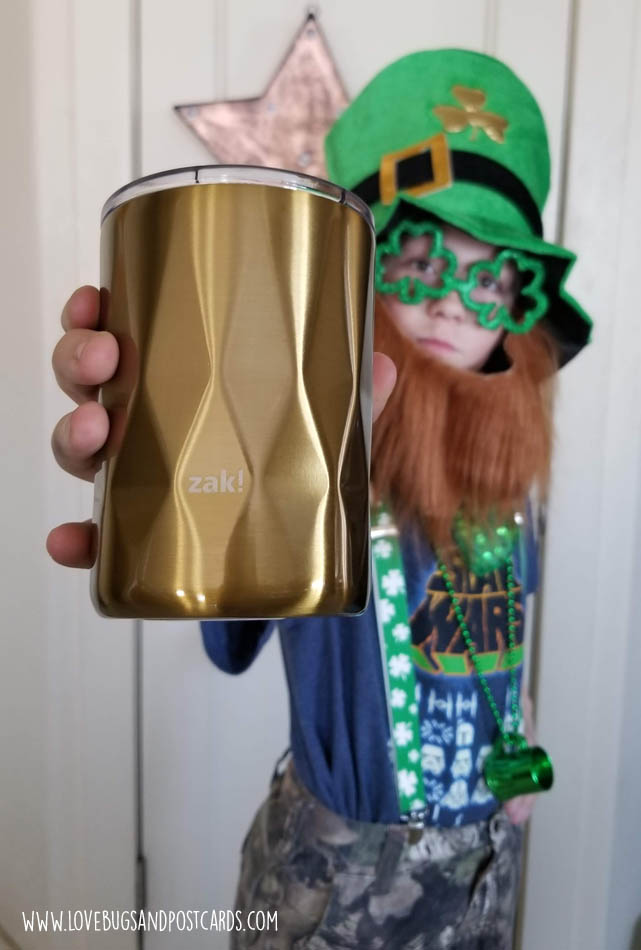 Head over to Zak.com and order your Fractal tumblers now! These are perfect to use for your St. Patrick's Day celebrations, weddings, parties, or just because! We will use them all the time with and without the lids.
The items from the new Fractal line from Zak that we received includes:
Fractal 9 ounce Vacuum Insulated Stainless Steel Tumbler, Light Gold
Celebrate in style with this stainless steel flute tumbler!
With a unique design and a beautiful finish, this tumbler is the perfect addition to your barware collection. It's vacuum insulated, which will keep your drinks warm for hours, as well as preventing condensation from forming. The press-in lid has a silicone gasket to hold it securely in place, protecting your beverage from splashes and spills. Made of durable plastic and stainless steel, the materials are all completely BPA free. The lid can also be cleaned in the dishwasher, though the 9-ounce tumbler should be washed by hand. Do not microwave.
Fractal 13 ounce Vacuum Insulated Stainless Steel Tumbler, Light Gold
A stainless steel lowball tumbler will give any drink a little extra flair.
Are you tired of diluting your drinks with melted ice? A vacuum insulated tumbler is the perfect solution–it keeps your drink cold for hours and as a bonus, prevents condensation from forming as well. This one also includes a press-in lid with a silicone gasket, which will protect your beverage from splashes during travel. The 13-ounce tumbler is made of stainless steel and completely BPA free. It should be washed by hand, though the lid is dishwasher safe. Do not microwave.
Fractal 11 ounce Vacuum Insulated Stainless Steel Tumbler, Light Gold
Raise a stainless steel wine tumbler to our stylish new barware collection. Your drinks will stay cold for hours and the beautiful finish won't be covered in messy condensation, thanks to the tumbler's vacuum insulation. You can also avoid splashes and spills with the press-in lid, which includes a silicone gasket to stay securely in place. Everything is completely BPA free, and while the 11-ounce stainless steel tumbler should be washed by hand, the lid is dishwasher safe. Do not microwave.
Which one is your favorite?
For even more St. Patrick's Day ideas, check out:
St. Patrick's Day Crafts and Decorations
25 St. Patrick's Day Crafts and DIY Projects
17 St. Patrick's Day Treats {easy, fun, and colorful}