I received these Non-candy Easter basket ideas items for review in order to facilitate this post. All opinions are my own.
We got a couple of surprise boxes in the mail a few days ago and my kids couldn't wait to open them and see what was inside. We got some really great toys and games, and my kids loved them so much I wanted to share to give you some ideas for non-candy Easter basket ideas!
BEST NON-CANDY EASTER BASKET IDEAS
I can't wait to show you everything we got and tell you why we love it. You can get all of these things at Walmart, Target, or online at Amazon!
CALICO CRITTERS
My youngest daughter LOVES Calico Critters. She was thrilled when she opened the box and found a Baby Ferris Wheel, Nursery Friends Set, and an Easter egg with Calico Critters inside. She also had a couple of blind bags that she and her brother had fun opening.
The Ferris Wheel was easy to set up and she has so much fun with it! She is working on building her own park to go with it!
BLIND BAGS – Blind bags add the element of surprise to Calico Critters' play! Each bag includes a Baby Critter and uniquely designed grocery and shopping accessories.
FERRIS WHEEL – Children can take the Baby Critters for some outdoor fun at the amusement park on this sweet little Ferris Wheel. They can open the gondola doors and have the Baby Critters hop on the carts for a ride on the spinning wheel. The Ferris Wheel includes three gondola doors and Toy Poodle baby Milo who is ready to play!
NURSERY FRIENDS – Children can now get a few of their favorite Baby Critters ready for nursery school. The Nursery Friends set includes three Baby Critters with their school uniforms, along with some accessories for the day: Grace Hopscotch Rabbit wearing a cute red hat, Luke Hazelnut Chipmunk with a water bottle, and Bonnie Persian Cat with her pink backpack.
TOYS FROM PLAY VISIONS
Being active and staying busy is very important to us. That is why I am always looking for things for my kids to do that don't involve electronics.
We got a box packed with great products that the kids have played with for hours – and I know that they will continue to do so. These are priced great and give your kids hours and hours of fun. These are a definite must for your kids for Easter this year.
FLOOF ZOO BABIES – Floof is the super soft compound that allows you to play without limits with the all-new Zoo Babies play set! Mold your favorite jungle animals! Comes complete with Floof, a special cat track roller, and three 3-D animal molds. All packed inside a convenient storage bucket.
PLAY DIRT – Available in a variety of fun and unique sets, Play Dirt looks and feels like real dirt but without the mess! Soft, pliable, and moldable like our original Sands Alive!, now kids can play with the Cleanest Dirt on Planet Earth and their parents will love it!
AQUA SQUISHEEZ – Aqua Squisheez represents a totally new concept in squishy and grow products. Filled with a material that expands in water, Aqua Squisheez will "inflate" five times its original size in 10-15 minutes after emerging in water. Once inflated they become super soft and squishy, and will not dry out or shrink! Lots of fun to watch grow, and even more fun to squish and play with! There are five styles to choose from!
GIANT BEAD BALL – Filled with water beads, just squeeze it and feel the little beads glide through your fingers for a super satisfying, sensory experience!
SANDS ALIVE! – The most comprehensive and creative line in this category, Sands Alive! is 100% non-toxic, anti-bacterial, and won't stain. Picks up easily off the floor and carpets. Mold it into hard durable shapes, and with a soft touch, it will break apart and appear to move almost as if it were alive!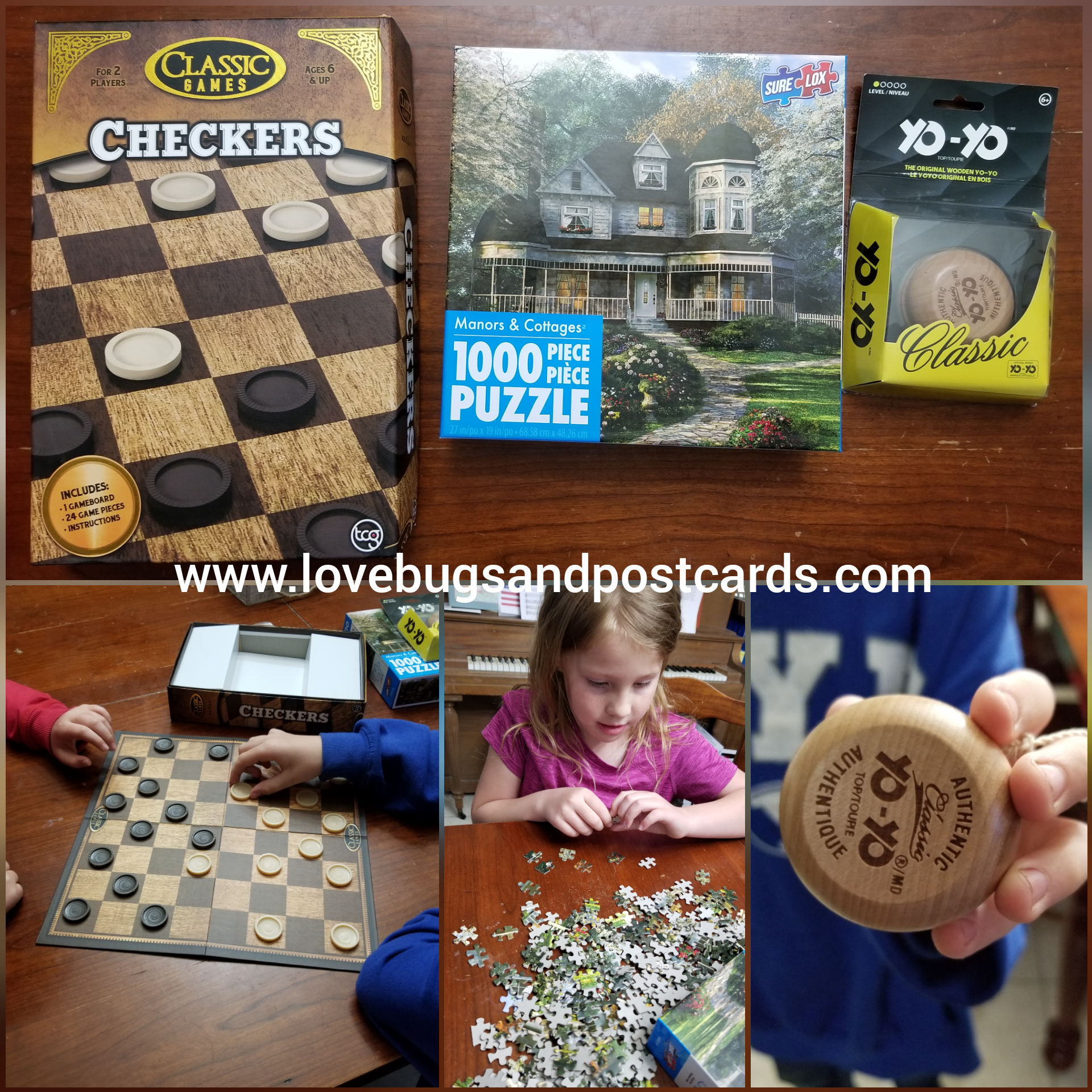 BOARD GAMES AND TOYS FROM TCG
Playing games and doing puzzles is a fun way for me to spend time with my kiddos.
CLASSIC CHECKERS – Build your Classic Games library with this high-quality, carefully crafted game of Checkers. Linen finished game board with sturdy game pieces, creates a perfect combination of durability and classic design for your home library.
YO-YO® Classic – a traditional wooden YO-YO® perfect for beginners of all ages! It offers a variety of functionality that complements each player's personality and skill level.
JIGSAW PUZZLE – The Official SURE-LOX™ Fit promises that the puzzle pieces will fit together with a snug and tight connection. Go ahead and lift-it-up!
TOYS FROM ORIENTAL TRADING
Oriental Trading is a great place to get all sorts of Easter basket fillers. They also have some fun Easter baskets! We got a great surprise in the mail from our friends at Oriental Trading and the kids have been having so much fun with their new toys and Easter baskets! We got :
EASTER BUNNY-SHAPED BUCKETS – Hopping to and fro looking for the perfect party pails? Your hunt stops here! A great addition to Easter party supplies, these bunny-shaped buckets come designed in bright spring shades. They're just what you need to hand out party favors or serve wrapped candies. Guaranteed to get every bunny's tail wiggling with approval!
EASTER BASKET FILLER ASSORTMENT – Are you looking for the perfect addition to your Easter decorations? The title says it all! This Easter basket filler assortment is the perfect addition to your Easter baskets! Each assortment includes noisemakers, foam rockets, and more!
What other non-candy Easter basket ideas do you love?
I hope that this list gives you some great ideas for non-candy Easter basket ideas. These are also great for birthday gifts. Other things my kids like are headphones, dolls, flashlights, books, art supplies, beauty items, etc.
I also love making them a yummy treat to have on Easter like these delicious chocolate-covered strawberries carrot Easter cupcakes!