Roses are one of my favorite plants to grow in my garden. I have always had one in my yard over the last 15 years. Because of this, I have learned a lot about how to care for roses over the years.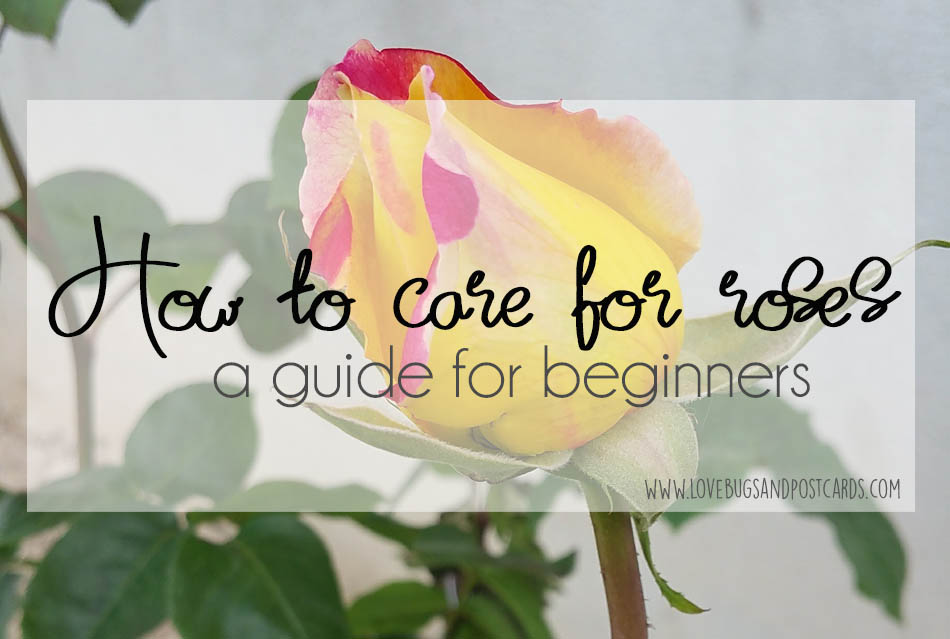 The basics of caring for roses
There are a few basics that you need to consider before you plant your roses. Make sure there is a lot of sunshine. They love being in the sun. You also want to make sure that they will be able to drain well so they don't develop root rot.
Once you have a good location in mind, follow the directions on the tag to get them planted. The best time to plant is in the spring after the danger of frost has passed.
SIDE NOTE: You will want to get a good pair of gardening gloves and a sharp pair of pruning shears. This will save you a lot of time (and keep your arms and hands from getting cut up on the thorns)
To care for your roses, you will want to follow these simple rules:
Fertilize regularly – organic fertilizers are applied monthly and work great. You can also use fertilizer spikes, liquids or annuals. Just follow the instructions on the label for application and frequency.

Water only as needed – avoid getting the flowers and foliage (leaves) wet. Don't over water. Depending on your soil you may need to water more (sandy) or less (clay).

You will want to water at ground level (with the water close to the base of the plant) and soak it well, probably twice a week. You will figure out what your plant needs.

Pruning – pruning should be done in the Spring. You will want to wait until you start to see the new buds on the branches. Then you will cut any dead branches/canes away (brown).

Once that is done, lightly cut back the growth from the year before. During the growing season, I like to cut the dead flowers off to help promote new blooms. you will want to do this all season long.

Stop cutting the blooms about a month before winter. This will help protect your rose through the winter.

Watch for disease and bugs – You will want to watch for a few things as you care for your roses. Little bugs like aphids, Japanese beetles, spider mites, and sawflies need to be treated immediately. I use Bayer Advanced and just spray all of the leaves, branches, and flowers and it usually has very quick results.

There are other organic treatments you can use as well. Powdery mildew and black spots can also develop. To help prevent this, water at ground level to avoid getting the foliage wet and make sure that the water is draining well.
It won't take long before you're a pro!
These are just a few tips to help beginners get started. Roses are actually very easy to care for and take minimal effort to have a beautiful looking rose garden in no time.
Also, remember that if you like the taste, roses are edible. You can use them for many different recipes and drinks. They are also great to make soaps, lotions, potpourri and more.
What is your favorite kind of rose?
If you are looking for more tips on gardening, you can check out the What to Plant in your garden (and when) guide that we shared. It covers a wide variety of fruits and veggies to get your garden planted and growing at the right times.
Also, be sure to pick one of the images below to share or to pin to Pinterest.