Yesterday I was able to make this fun DIY Painted Burlap USA Flag Board. I love how it turned out so I wanted to share it with you. For this project, you will need the following:
Burlap
Spray paint
1″ x 6″ x 12″ board
Red, White and Blue acrylic paint
Foam paint brush(es)
Decorative nails or finishing nails
Hammer
Star Garland (or star stickers)
Tacky Glue
Once you have all your supplies, get ready for a fun hour of crafting to make your own.
First, you will want to take your board and spray paint it. I used a metallic silver color because I love the way it looks (like metal) behind the flag. You could even stain the board if you want. Once the board is dry, take and measure a piece of burlap that is about 4 inches too long on each side. Center the burlap, and then turn the board over and you are going to use the nails to attach it to the board on one side and then the other. Now the burlap is attached to the board, you are going to use painters tape (or you can eyeball it) and put the lines down on the burlap. Before you start painting you will want to put a folded piece of newspaper under the burlap to protect the board from getting smeared with paint through the burlap.
With the tape in place, you will want to paint the white color on the exposed areas. Once the white is dry, you will take the stars and place them on the white square. If you use the silver garland stars, you will want to put a dot of the tacky glue on each star to stick them on. Once these are placed, you will paint over the stars with blue paint. You need to make sure you have painted this white before you paint it blue, so it is white under the stars once you pull them off.
Now you have the blue and white painted, you will want to take the tape off. Fill in the gap from the white to the blue finishing the white stripe, then you will paint in between the white with red paint. Once the red stripes are done, you can start picking the stars off and you should be about ready to go. Look for any touch ups that need to be done and then remove the newspaper when you are done the painting. Wait for a couple of hours for it to dry completely and then display your DIY Painted Burlap USA Flag Board inside or outside (away from elements).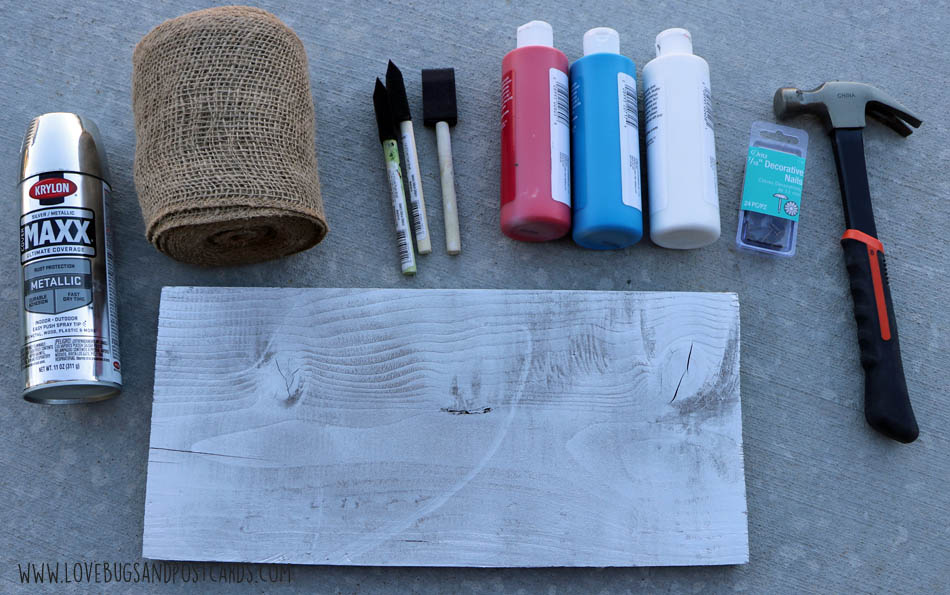 '
I hope you enjoy making this DIY Painted Burlap USA Flag Board. They are great decorations for around you house or to give to family and friends.
Be sure to check out these other 4th of July projects as well: