This is a Sponsored post written by me on behalf of American Frozen Foods Institute and the Frozen Food Roundtable for SocialSpark. All opinions are 100% mine.
I love being in the kitchen. Cooking and baking give me a sense of accomplishment, especially when it tastes good. But let's be realistic for a minute…my day consist of so much (especially being the mom of four AND running two home businesses, wife, homemaker, and many other roles) that sometimes its hard to find the time to even put a good breakfast on the table. I don't want my kids to eat foods that are high in sugar and little else, for breakfast every morning – and I don't want them to eat fast food for dinner every night. I had to find a balance that would allow me to provide them with healthy meals, even though I don't always have time to cook them…I found that balance by buying Frozen. How Fresh Stays Fresh. With Frozen foods, they take quality ingredients and make inspired recipes that are frozen, locking in the freshness, flavor, and nutrients, until I cook them and we enjoy them.
I recently was able to buy several different brands' frozen foods, and I was honestly amazed at how many there are. I felt like I was more of an expert in this area (in knowing what foods are where) because of my couponing background – but I have been missing out on some good ones. Did you know that Healthy Choice Cafe Steamers come in several varieties and they also steam the food. This leaves your veggies crisp, the meat is tender and the pasta is perfectly cooked. We tried the Sweet Sesame Chicken and it was fabulous. Perfect for my husband to take to work for lunch because it cooks quickly, tastes amazing, and there is little prep. We have made this same dish from scratch before and I honestly couldn't tell you which tasted better. Check out fresh vs frozen and see all the benefits that come with eating frozen foods.
Our mornings are always hectic (and not just because we have four kids) but also because of doctor visits three times a week, work, and many other obligations, we need something quick but healthy. Like I said before I don't want my kids eating poptarts and cold cereal for breakfast every morning – it just simply doesn't provide the nutrients my kids need, and usually they get way to much sugar (which they definitely don't need, lol). There are so many benefits of frozen foods. Having Eggo® Waffles with a yogurt and juice or Toaster Strudel with milk and fresh fruit will give them a well rounded breakfast that only takes me a few minutes to prepare. School mornings are the hardest and having Fresh frozen foods that have the flavor and nutrients we need and love are important.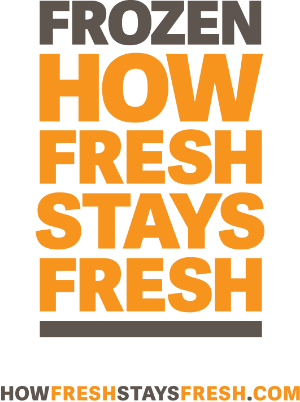 Frozen foods are a staple in our home. They allow us to have meals ready when we are, when we don't have the time to prepare something ourselves. I hate eating fast food simply because it is unhealthy. Flash Freezing foods allow those foods to keep their nutrients and flavors so they are still fresh when we eat them. You can get everything from fruit to Lasagna to Cheesecake in the freezer section and the best part is that they come in all sorts of sizes. You can get enough to feed just you, or your whole family.
Another one of my favorites (I can't say much for my family on this one because I ate all of it by myself…bwhahahaha… 😉 ) is the Edwards Cheesecake Desserts. These are made by Schwan's and we all know how amazing their foods are. Edwards are sold at stores like Kroger in single serve packs or packs with two. This is important to me because I would probably eat a whole cheesecake by myself. Since I am trying to stay healthy, but allow a little room for a treat now and then, the Edwards Desserts are perfect.
Next time you are at the store – check your cart and see what you are buying. Check out the freezer section for meals, snacks, appitizers, and more that taste good and have preserved the freshness that we all want and love. Frozen foods are packaged at their peak so you will have fresh crafted foods within minutes, that your whole family will enjoy.