We have already shared so many fun things with you from our trip to Florida like LEGOLAND Florida Resort, Medieval Times Dinner & Tournament, Universal Orlando Experience, CoCo Key Hotel & Water Resort and many other amazing places. I still have a few more that I want to tell you about. On the last day of our trip, we didn't have to be to the airport until around 4:30 pm. This left a lot of time for us to have one more great adventure before we left to fly home. We were given media passes to the Orlando Eye, the Sea Life Aquarium, and Madame Tussands Wax Museum, so we decided that would be the perfect place to go and spend our morning. I am so glad we did. All opinions stated here are my own.
The Coca-Cola Orlando Eye
The Coca-Cola Orlando Eye is an amazing experience. You get into a capsule that takes you 400 feet up into the air on a 23-minute journey. You can see for miles in all directions from central Florida. Places like Disney World, Universal Studios, Sea World, and so many other iconic places. There is an electronic interactive screen that lets you learn more about what everything is, and where everything is.
Be effortlessly lifted away in a capsule of calm and serenity to see Orlando in a way you've never seen it before.  The iconic 400-foot tall observation wheel provides breathtaking views of Central Florida in all directions, with sights of downtown Orlando's skyline, theme parks, lakes and lush landscape, and on a clear day, views of Cape Canaveral on the east coast.
My husband and I had been on something similar in Las Vegas, so we had an idea of what to expect, but my kids couldn't even begin to comprehend how high we would go. We went really early (like right after it opened) and so we were able to get a pod all to ourselves. It was fantastic. There is an interactive map in the pod so you can figure out where everything is at. This was extra fun for the kids because they were able to see all of the places that we had visited while we had spent a couple weeks in Orlando. We had so much fun on this part of our trip and the kids keep asking when we can go back! Definitely put this on your list of places to visit when you are in Orlando.
The SEA LIFE Orlando Aquarium
The SEA LIFE Orlando Aquarium is a great little gem that I am glad we found. The way the aquarium is laid out makes it easy and fun to see everything and the free booklets are super fun for the kids. There are stamp press machines throughout that they can put into their books and have a great souvenir to look at later on. There is also an interactive pool where they can feel various sea life and an amazing walk through tunnel that has 360 degrees of visibility that my kids LOVED! It took us about 70-80 minutes to go through it – but we could have stayed longer. It was a fun place to be and we loved it.
This was one of my son's most favorite things we did on the whole trip. They have a beautiful sea turtle in their tank and my son sure bonded with him while we are there. Hunter loves turtles and being able to see one that close and watch it the way we did was something he will always remember. The Sea Life Aquarium is a great place to stop on your trip for your kids to get some energy out and be educated at the same time. 
Madame Tussauds
Madame Tussauds Wax Museum is a very fun place to visit. My kids loved going from exhibit to exhibit seeing the different figures and learning more about them. It was a journey through that ages and taking pictures with all of them made for a lot of great memories and moments that we will always remember. You definitely want to stop here and see everything. Try to go early in the day so it is not as busy.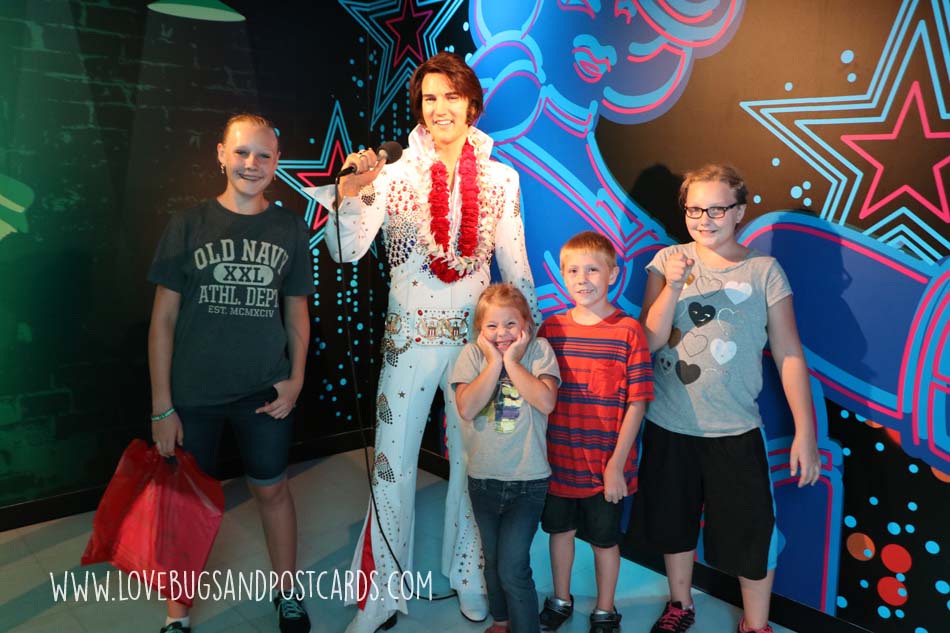 I have heard of the infamous Madame Tussauds for years now and seen in it Hollywood and Las Vegas, but we have never taken the time to visit before. It was a great experience. We had so much fun taking pictures with famous people from across generations of time. My kids asked who some of them were, and I asked them who some of them were – lol – it was a lot of fun.  Be sure to check it out!!!
You can visit all of these amazing attractions in one great place – the I-Drive location in Orlando, Florida! For more information on all of these places visit:
https://www.officialorlandoeye.com
https://www.visitsealife.com/orlando