We received these products for review. All opinions are my own. Spring is here and we have been very much enjoying the warmer weather. Not only getting outside to play in the water but doing crafts, cooking, baking and having fun together! We have some new favorites that we have discovered and want to share them with you.
We are also hosting a giveaway for several of the items, so be sure to read to the end to see how you can enter to win! I love the collection of things that we got. Everything from the books to the crafts, the water toys, cooking supplies and more!
We have had a lot of fun exploring each and everything and will be sharing more about each item over the coming week on our social media channels (Facebook, Twitter and Instagram) so keep an eye out for those too!
Here is an overview of each item:
Our Gel Printing Plate looks and feels like gelatin, but is durable, reusable and stores at room temperature. It's easy to clean and always ready for printing. Monoprinting on a Gelli plate is simple and fun. The gratification is immediate, and the prints are too cool!
Kidstir is a unique subscription service for children that can be joined or given as a gift, or you can send one of the single kits, as well. Each month, Kidstir will send your child a cooking kit filled with three delicious, nutritious recipes, kid-size cooking tools, games and activities! With a focus on fresh, nutritious food and hands-on fun, Kidstir was created by moms who know that through cooking, children will gain important life skills in the kitchen — and cook up some fun family memories together! This Single kit can be purchased without a subscription. 3-month, 6-month, and 12-month subscriptions available, as well as the individual Bake My Day or Taco Truck Fun Kits. 
A Chopped kid chef and entrepreneur is on a mission to bring healthy food options and easy-to-cook scrumptious recipes to a busy and heavily-scheduled generation of teens.
 Preschool Clues: Raising Smart, Inspired, and Engaged Kids in a Screen-Filled World. Drawing on her years of experience as the creator of beloved kids' shows including Blue's Clues, Daniel Tiger's Neighborhood, and Super Why!, Angela has distilled her expertise into eleven "clues" to help parents discover how their preschoolers' favorite TV shows can be some of the most effective, inspiring teaching tools around."
Peppa Pig Toys
Movie Night with Mummy Pig Little Room set
It's a girl's night for Peppa and Mummy! Mr. Potato's on tonight – press the button on the television to light up the screen. Scoot up the table for pizza, popcorn and yummy snacks. Add these special family moments to your Lights n' Sounds Family Home for even more playtime fun.
Cra-Z-Art Peppa Pig Softee Dough Figure Maker
Molding your favorite Peppa Pig character out of Softee dough provides hours of fun and creativity! with the molds included, use your imagination to mold and create 4 different characters from the Peppa Pig series. Comes with 7 containers of different Softee dough colors to create your figures. Hugely popular in England and now a hit in the U.S. Peppa is a loveable, exuberant little piggy who lives with her little brother George, mommy Pig and Daddy Pig. Peppa's favorite things include playing games, dressing up, days out and jumping in muddy puddles. Her adventures always end happily with loud snort of laughter.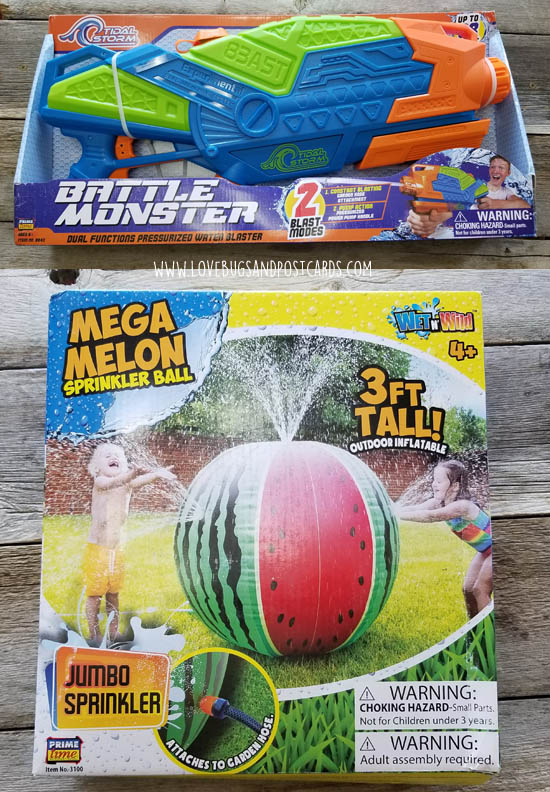 Water play from Prime Time Toys
Mega Melon Sprinkler Ball
Standing 3 feet tall, this inflatable giant, the melon ball of fun, spouts water from four different fountains
Tidal Storm Battle Monster
The pressurized water blaster action will send water soaring up to 38 feet! The Battle Monster has two blast modes – Constant Blasting that enables direct connection to a water hose, as well as traditional Pump Action. The blaster also comes with adjustable spray nozzles.

We are excited to offer a giveaway of some of these favorites too! You can win  a Gelli Arts Kit, The Healthy Teen Cookbook, a Kidstir Starter Set, a Mega Melon Sprinkler Ball, a Tidal Storm Battle Monster. This is a fun collection of Spring Favorites – that are great for you and your kids to have some fun even through summer!
This is open to US. Must be 18 or older. Sweepstakes will run from 5/15/18 through 5/22/18. This contest is not endorsed or sponsored by Facebook, Twitter, Pinterest, Google or any other social media. The winner will be chosen using Random.org. The winner will be contacted via email. The winner is responsible for contacting me within 24 hours, or a new winner will be chosen. The prize is provided by various companies. Lovebugs & Postcards and Daddy by Day are not responsible for prize fulfillment. Good Luck!