While I was in San Diego for PBS Kids at the PBS Annual Meeting, I was able to visit La Jolla Cove. I have wanted to go there for a long time, but I have only been to San Diego once in the last 25 years and we just weren't able to make it happen last time I was there. I was NOT disappointed! What a great stop. If you are in San Diego (area) this is a MUST-SEE stop!
You can walk out on the beach, stay up on the sidewalks, or go down on the rocks. Any place you chose, you will have a great view of all of the Sea Lions and Seals there. We spent about 30-40 minutes walking around and enjoying it all, but I could have spent at least an hour there. Plan on 30 minutes for a really great experience, but you can see it all in 5 minutes if you have to, lol.
The Sea Lions and Seals are so fun to watch. There were a lot of babies when we were there (mid-may) and it made it that much more fun. Many of them were up on the rocks sleeping, and a few were playing in the water. You can get really close to them (there are no barriers) but it is recommended that you don't get close because "Seals and sea lions are wild animals. Disturbing hauled out seals or sea lions is considered harassment, which violates federal law and can lead to a citation. Sea lions have also bitten people who get too close or try to snap a photo. For your safety and the safety of the animals, please remain at a distance that does not frighten or disturb them." I stood about 8 feet away – and that was great for me. They were sleeping, otherwise I wouldn't have even tried that.
There is paid/metered parking within 20 feet of the cove, but it can be hard to find a spot.
Things to remember at La Jolla Cove —
Have your camera ready. There are so many great photo opportunities here.

Wear shoes that can go on the beach (sandals are perfect). I wore tennis shoes and had to pack them around the whole time.)

If you plan to get in the water (and "swim" with the seals and sea lions) be sure to wear water attire and bring a towel.

If you plan to stay a while, bring water and treats. There are picnic tables and even grills if you want to make an outing of it.

Walk around, explore, climb the rocks and immerse yourself in the experience. It is really amazing and fun!
Here is our picture tour: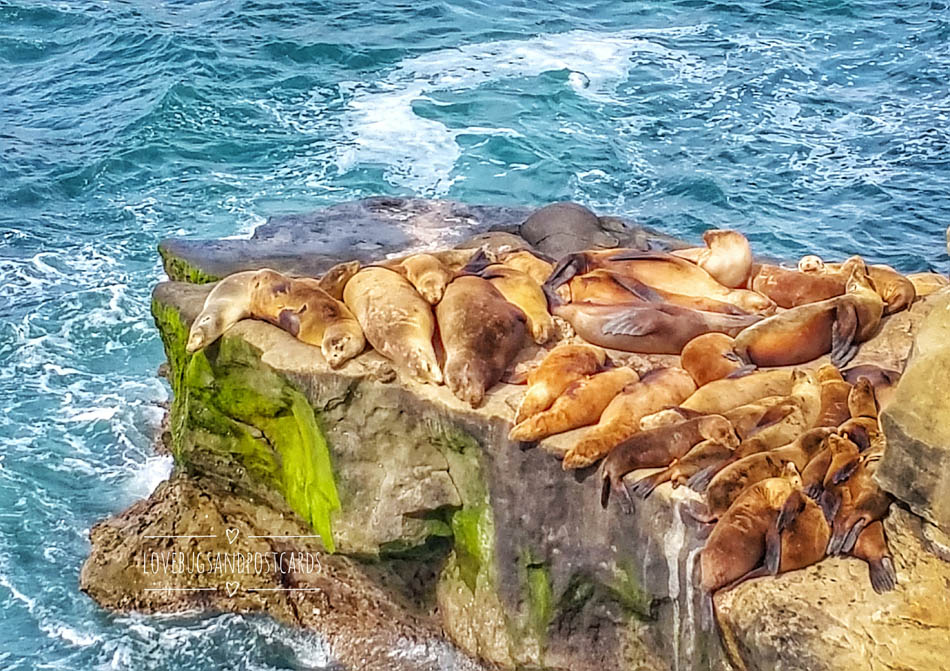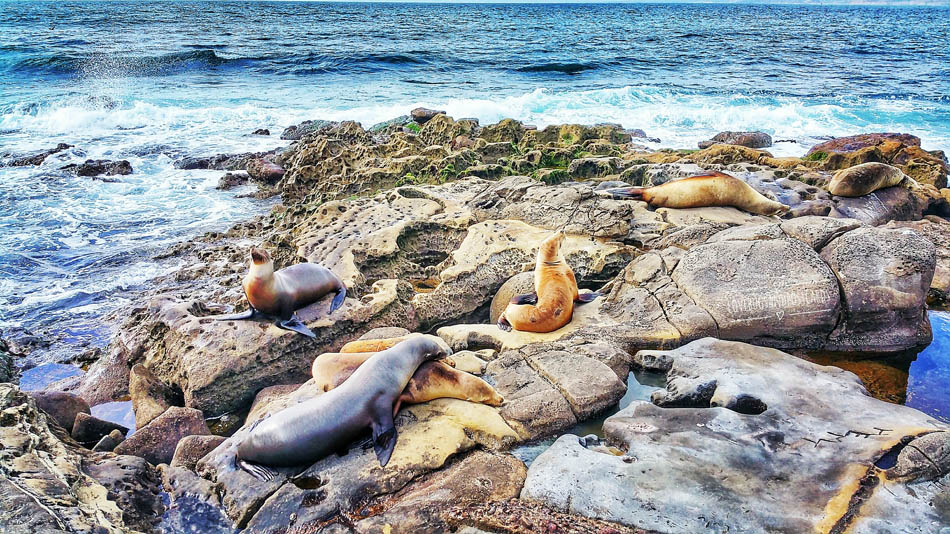 I hope you are able to visit La Jolla Cove soon. It is a great place to make memories while in the San Diego are. Read about more places to visit and stay in California here.