Summer is in full swing and I am sure you are looking for things to keep your kids busy and having fun. We recently shared a great Tech free summer fun for kids guide that will give you even more ideas. Today I am excited to share a kids guide for ultimate summer fun. New toys, games, science kits, snacks, and so much more! We have partnered with the brands below to bring you this list.
Kids guide for ultimate summer fun
Stick-O Forest Friends 16-Piece Set The Stick-O Forest Friends 17-Piece Construction set is great for toddlers to explore tactile learning and hands-on magnetic play. Each Stick-O piece uses magnets that rotate so your creations always stick together, making for a frustration-free play experience. Ages: 18m+. Learn more https://www.magformers.com/sticko
---
Dolce Primo Anteater
Dolce Primo Anteater Dolce's Primo Anteater is the perfect toy for engaging your child's tactile senses. It features ribbon ties, a bead rattle, and a mirror that is covered by a circle peek-a-boo door on the foot and soft textured fabrics throughout. Dolce stands for Develop, Observe, Learn, Create, Educate. Ages 0M+. Learn more here https://www.magformers.com/dolce
---
The original and authentic Magformers. Set includes 22 Pieces. 7 Squares, 2 Arches, 4 Sectors, 1 Rectangle, 1 Ice Cream Sign, 2 base plates, 1 Ice Cream block, 1 Mini Chair, 1 Mini Table, 1 Ice Cream Seller and 1 Wall Plate. STEM Accredited by STEM.org. Perfect for brain development, critical thinking and education. Step-by-step educational idea booklet with follow along ideas and instructions. Neodymium rare-earth magnets for guaranteed connectivity. Compatible with all Magformers shapes and accessories. Super strong, safe and durable BPA-free High Quality ABS plastic. Learn more here: https://www.magformers.com
---
Magformers Carnival Set
Bring your circus ideas to life and become a ringmaster with the award-winning Carnival set. Learn to build a Ferris wheel, Carousel, and other great circus rides! Add accessories to your geometric shapes and design whirling, spinning creations. Learn more here: https://www.magformers.com
---
This battle set features 2 individual ships with interchangeable pieces and 3 unique builds. This set lets both builders construct their own 3-in-1 ships, for 6 epic Snap Ship builds. Also get ready for Snap Ships line of FUSION DRONES. Now YOU can Build to Battle! Snap Ships is a versatile building system for creating multiple crafts with action play, and all sets and pieces are interchangeable, so kids can build however they want. Check out all of the different designs on https://www.snapships.com
---
Mix up a rainbow of mouth-wateringly delicious lip balms and lip glosses. Experiment with a vibrant spectrum of colors and flavors to create your own personalized lip products. This cosmetics laboratory includes a special workstation and all the ingredients, containers, and tools you need to make up to six lip balms in clear plastic jars and two lip glosses in glass rollerball-applicator bottles. A full-color manual guides you through the process of making lip balms and glosses and provides detailed information about the science behind these products. Thoroughly tested to the highest standards for cosmetic and toy safety. For ages 8+ Learn more here https://store.thamesandkosmos.com/products/yummy-rainbow-lip-balm-lab
---
This kit is a complete perfumer's laboratory with six candy-themed fragrances, a special workstation, and all the tools and containers you need to make more than 24 sweet-smelling perfume combinations. Build your personalized fragrance, choosing from the essences of peppermint, chocolate, vanilla, lemon, cinnamon, and cotton candy. Once you have perfected your scent, store it in the deluxe perfume bottle, adorably shaped like a wrapped hard candy. The full-color manual is packed with information about the biology of smell, the chemistry of scents, and the art of making perfumes. For ages 8. Learn more here https://store.thamesandkosmos.com/products/sweet-candy-perfume-lab
---
Commonly known as quicksilver, mercury is the only metallic element that is a liquid at room temperature. It's a heavy, silver-colored metal that has been historically used for temperature gauges and electrical applications because of its conductive properties. Just like its namesake, Quicksilver Thinking Putty® is a saturated silver color with dark streaks throughout. Use the included magnet to discover the unique properties of this putty for yourself. Learn more here: https://crazyaarons.com/collections/magnetic-thinking-putty-collection/products/quicksilver-thinking-putty
---
Hape's Growing Gardeners Greenhouse Set, this new eco-friendly greenhouse playset is the perfect way for little ones to learn about how to grow their very own garden. Made from sustainable bamboo and BIO plastic from sugar cane, just plant the seeds of your choice in the greenhouse and watch them flourish!
Once the plants are bigger and stronger, transfer them to the backyard soil and watch them flourish. The Gardening Greenhouse Set encourages children to get back in touch with nature this season and is easy to use. Learn more here https://www.hape.com
---
Keep the world at your fingertips by traveling the 7 continents at your leisure with this dazzling diamond art painting of all the Earth's countries. Great for both the home and office. Comes with everything you need to create this beautiful 16.5″ x 23.2″ canvas with diamond art. Contains 30,932 Diamonds. They are round With 41 Colors Including 3 ABs. See all of the beautiful Diamond Art Club designs here https://www.diamondartclub.com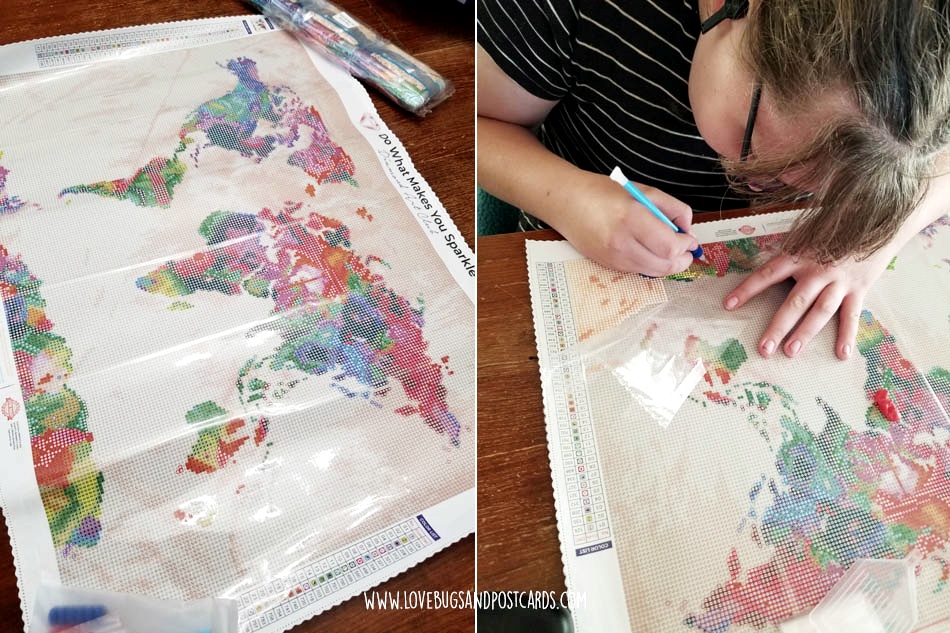 ---
Officially making a splash across retailers nationwide, these new next-level snacks – available in three mouthwatering varieties including Mixed Fruit, Berry Blast, and Island Splash – are unlike anything else before as you can taste the fruit and actually see the juice inside each piece!
Made with REAL fruit on the outside and delicious juice on the inside, Welch's Juicefuls brings all the goodness you love and expect from Welch's Fruit Snacks, only with a fun, fruit and juice combination. Learn more about them here and get a coupon! https://welchsfruitsnacks.com
---
Land of Dough Space Galaxy
Let them hold the galaxy in the palm of their little hands. A beautiful backdrop of sparkling black and cosmic purple is home to a starfield of multicolored glitter. Includes 7 oz. of dough. Color: blues, greens, purples with multi-colored glitter. Final Color: space black. All-natural dough and colors, compostable glitters, and calming essential oils. Eco-friendly packaging. Including a natural, sustainably sourced wooden shovel made from birch. Air dries for sculpting. Handcrafted in the USA. Learn more on https://www.landofdough.com
---
Kids Guide Favorites
We will be updated this Kids guide for ultimate summer fun throughout the rest of the summer! Keep checking back to see what is new. What are your favorites?