Thank you to the National Frozen & Refrigerated Foods Association (NFRA) for sponsoring this post! For more inspiration during this March Frozen Food Month, be sure to check out delicious ideas from NFRA at EasyHomeMeals.com.
One of my goals this year is to not only become more fit but to eat better and develop better eating habits. This has pushed me to look for ways to make the foods I love to eat better for me and healthier alternatives to things like noodles – by using veggies. I loved cauliflower rice, and now I am in love with veggie spirals as well. When I was grocery shopping at Smith's (and Walmart) I came across the Green Giant Veggie Spirals ™ in the freezer section, and I realized that these would be perfect to substitute for noodles in any dish. We love Chinese food, and stir-fry is one of our favorites. I knew immediately that the Zucchini noodles would be perfect for this!
I wanted to make something I knew my family would love and is better and healthier for us. The Zucchini Green Giant Veggie Spirals were perfect with the other veggies, grilled chicken and stir-fry sauce. My kids loved it all so much that they were constantly sneaking the veggies and pieces of cooked chicken from pan and cooking area before it was even done. I love how it turned out and the combination tasted great! Here is what you will need to put it all together:
1 bag of Green Giant Veggie Spirals (Zucchini)
1 red pepper, cut into strips
2 carrots, peeled and cut diagonally
1/2 sweet onion, sliced thin
1 cup of sugar snap peas
1 cup of broccoli florets
1 garlic clove sliced
Toasted sesame seeds (sprinkled on top)
1-2 tsp of ginger powder
2 tbsp. brown sugar
1 tbsp. soy sauce
2 boneless, skinless chicken breasts, grilled and cut into 1-inch pieces
1 packed of stir-fry seasoning (we used the Kroger brand)
With only a few ingredients, you can have a healthy delicious meal with your family. I love using frozen foods because I am able to keep the foods I love longer, and it is much more convenient on busy nights. I am adding the Green Giant Veggie Spirals™ to my freezer "pantry". They are an exciting new take on noodles, spiralized from fresh zucchini, carrots, butternut squash, and beets. They are made from 100% vegetables with no sauce or seasoning added so you can serve them exactly the way you like. They have up to 90% fewer calories than pasta*, making them the perfect swap-in. A gluten-free and guilt-free way to make veggies the star of your next dish! Even my picky 6-year-old gobbled up a whole bowl of this delicious Zucchini Noodle Stir Fry Recipe made with Grilled Chicken.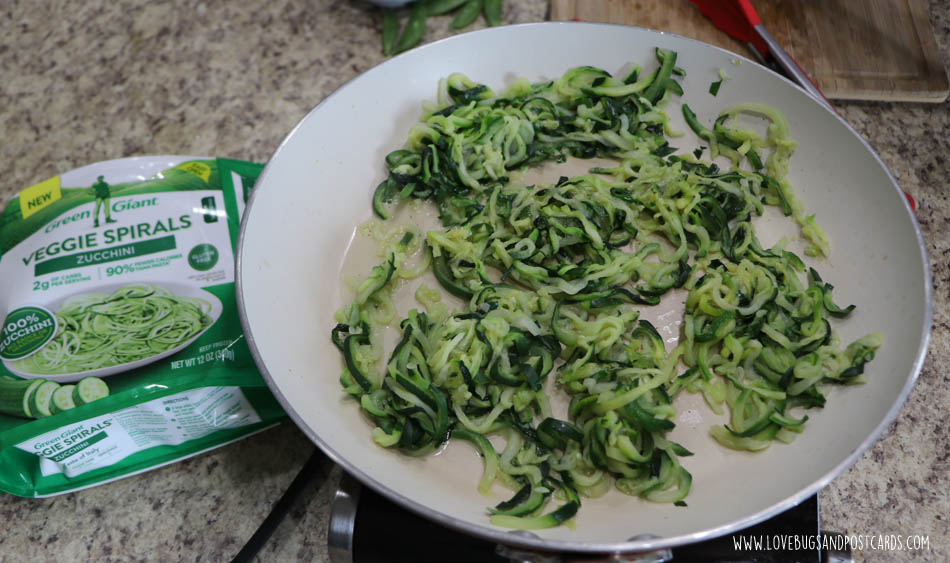 To make this delicious Zucchini Noodle Stir Fry Recipe made with Grilled Chicken:
Put chicken on grill (we used a panini grill) and cook until done. I sprinkled a small amount of the stir-fry mix powder on each piece to help flavor it.
Heat large skillet over medium heat.
Open the bag of Veggie Spirals and heat in a skillet until all of the spirals have separated (mixing occasionally) or you can just steam them according to package directions for HALF the time and add them to the pan without the liquid. (Drain thoroughly)
While the spirals are heating, you will cut the fresh veggies and get them ready.
Add the snap peas, onion, pepper, broccoli, garlic, and carrots to the zucchini noodles and mix gently.
Sprinkle the stir-fry mix with 1 cup of water, soy sauce, ginger, and brown sugar and stir.
When the chicken is cooked, cut it into 1-inch pieces and add it to the mixture.
Sprinkle with toasted sesame seeds
The crispness of the cut veggies with the delicious veggie spirals the seasoning combines together to create the perfect meal. This also stores well in an airtight container in the fridge for a couple of days. Perfect to make a head and take with you to work the next day.
Want to learn more about Veggie Spirals? Visit the Green Giant website for recipe ideas & savings! It's #FrozenFoodMonth, and, to celebrate, you'll find a flurry of deals on frozen foods at your local retailer. What's more, the National Frozen & Refrigerated Foods Association (NFRA) has partnered with Coupons.com to offer cool savings on some of your favorite frozen food brands. Visit Easy Home Meals for great recipes and meal solutions and to enter the March Frozen Food Month Sweepstakes for a chance to win up to $10,000 in prizes! It is a win-win!
We are excited to also be offering you an amazing giveaway! 10 winners will each receive 5 FREE PRODUCT Green Giant coupons (up to $5.49 value each) total value is $27.45 per winner. This will give you the chance to try out these delicious Green Giant Veggie Spirals ™ and other fantastic Green Giant Veggie Swap-Ins ™! Giveaway runs from 3/12/18-3/22/18. Open to US only. Must be 18 or older to enter. All entries will be verified. Winners will have 24 hours to respond to winning email, or a new winner will be chosen. Good Luck!