Welcome to another great week in our Weekly Kid's Activity Series! This week is Gardening. We have really cute DIY Painted Flower Pot Cupcakes that we are sharing today. And then, on Wednesday, we are sharing Gardening crafts and on Friday we are sharing a gardening activity that your kids will love.
We have also shared all about Animals, Father's, and the Ocean so be sure the check those out as well!
To make your Painted Flower Pot Cupcakes:
Cupcakes
Frosting (chocolate)
Crushed sandwich cookies (like Oreos) for the dirt topping
Green sucker sticks
Fake flowers (even better to let your kids help pick them out)
Small terra cotta pots
Gravel – or newspaper and a rock
Paint and brushes
Newspaper
To start out, you will want to get your cupcakes baking. Make sure your kids help you make them – that is half the fun 🙂
While they are baking you will have your kids paint their pots. They can do any design/color they want. These also make really fun gifts – so you can even make some to give to friends and family as well.
Once your pots are painted – leave them to dry. The cupcakes should be done – so take them out to cool. Once the cupcakes are cooled – you are going to frost them with the frosting and them immediately dip it into the crushed cookies to give the top of your cupcake a "dirt" look.
To make the crushed cookies you will just put sandwich cookies (like OREO's) into a food processor and blend.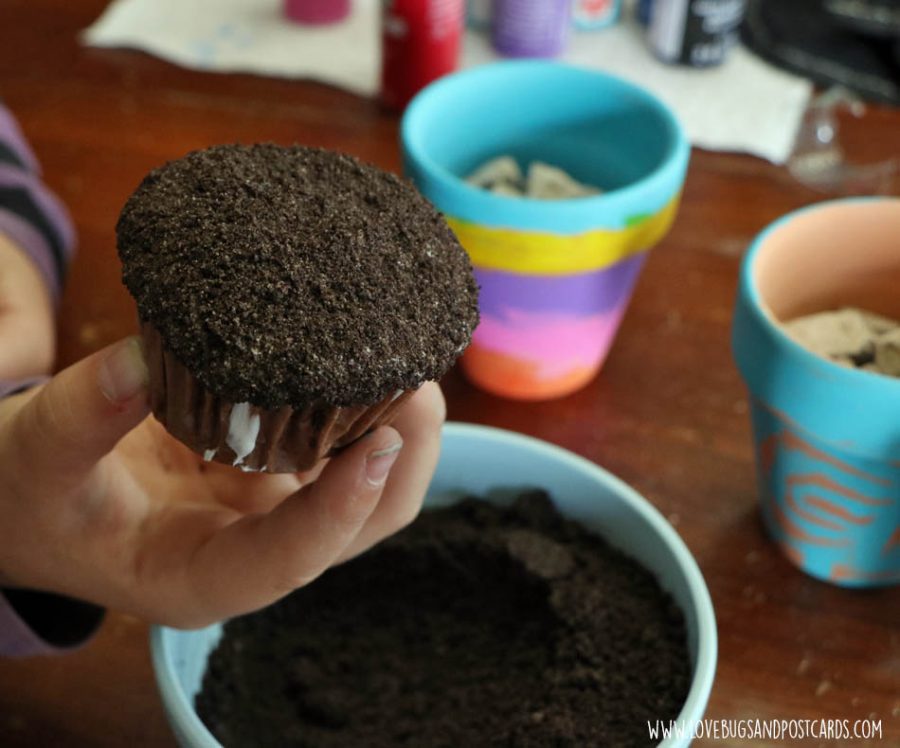 Now you will take some small gravel or a smaller rock and some newspaper and fill in the bottom of the pot. We are going to put the cupcake into the pot – but want to be able to get it out easily. The rocks or newspaper will make sure it doesn't fall down too far.
Take the flower (you can make one or use a store bought one). You can even do more than one and different heights. Push it into the cupcake and into the gravel to secure it down.
These painted flower pot cupcakes are so fun to make! We had a great time painting them and putting them together. It took less than an hour to paint them and put them together. It is a fun quick activity that your kids will love doing with you.