I have lived in Utah my whole life and have only been able to visit Bryce Canyon National Park in 1 day. I want to go back and camp and spend time there doing hikes, but I wanted to share with you what we did in case you are on a limited time schedule like we were. It was also sprinkling that day, so we didn't get a chance to do any of the hikes besides Mossy Cave Trail even if we had wanted to.
Overall, it was an amazing experience and the views are breathtaking. It doesn't matter if you only have an hour, stop and view some of these amazing sites God has given us. Here are the stops we made and other popular ones on the map. You can take all day or several hours like we did and see what you can. I hope you have an amazing time visiting Bryce Canyon National Park in 1 day!
Also, don't forget to stop at the visitor center. It is really cool with a lot of information and displays. It is also a great place to buy a souvenir or two. If you have kids, be sure to get them each a free book so they can do the Junior Ranger program for this park. They are pretty easy and fun and they get a badge for completing it!
Bryce Canyon National Park in 1 day
---
Mossy Cave Trail

Mossy Cave trail is one of the lowest elevation hikes in the park as well as one of the only hikes that begins with a climb and ends with a descent (most day hikes in the park begin with a descent and end with a climb). It is also the northernmost hike in the park, located just off of SR 12 as it winds its way through the park boundary. The trail is 0.4 miles (0.6 km) in length one-way, and forks to provide access to Water Canyon in one direction and to view a sheltered overhang known as Mossy Cave in the other.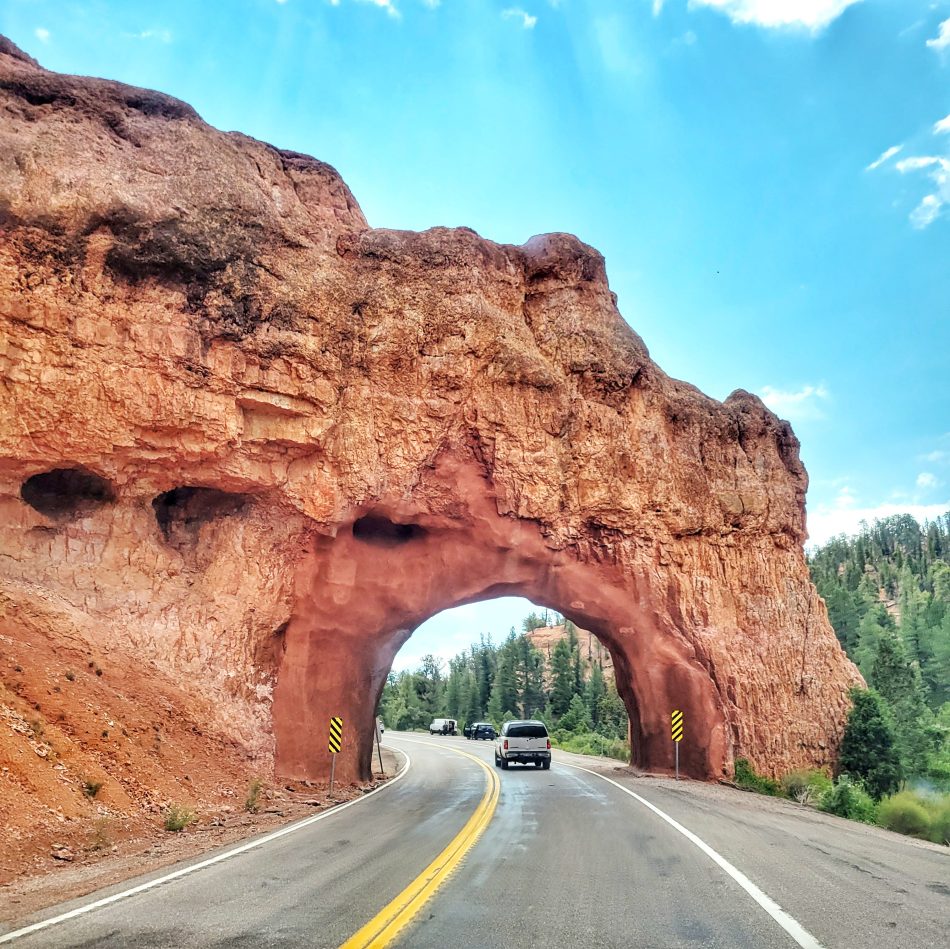 ---
Sunrise Point

Sunrise Point is the northernmost of the four major viewpoints that overlook the iconic Bryce Amphitheater. Though this point along with Sunset Point was named to entice early Lodge visitors to easily accessible points along the rim at both times of day, this view is equally spectacular at daybreak and day's end.
---
Sunset Point

Sunset Point offers vistas of some of the most famous and breathtaking of Bryce Canyon's hoodoos. Few places are the colors of Bryce Canyon's rock better displayed than from Sunset Point. Called the Claron Formation, this unique rock is primarily composed of limestone deposited approximately 50 million years ago in a large freshwater lake, known to geologists as Lake Claron.
---
Inspiration Point

Along with Bryce Point, Inspiration Point provides a birds-eye view of the world's largest collection of rock spires called "hoodoos" found within the Bryce Amphitheater. The viewpoint here consists of three levels that provide varied spectacular perspectives in all directions. The Claron Formation consists of two members, the lower Pink Member, a "dirty" limestone that contains sand, silt, and iron that lends the rock its reddish color, and the upper White Member, a purer freshwater limestone.
---
Bryce Point

Perhaps the most iconic of the park's viewpoints, Bryce Point provides a soaring view of the Bryce Amphitheater from the south. Southern Paiutes call this place Unka Tumpi Wun-nux Tungwatsini Xoopakichu Anax, which means "Red Rock Standing Like a Man in a Hole". These hole or bowl-shaped areas–called amphitheaters–contain the world's greatest concentration of irregular rock spires called "hoodoos".
---
Piracy Point

Piracy Point has been said to take its name from the buttes that might resemble pirate ships sailing alongside the rim, but it's more likely that the name refers to a geomorphological process that is soon to take place here. This point overlooks Swamp Canyon and the Sheep Creek drainage system to the north and the Willis Creek drainage system that collects run-off south from here. The broad, sloping valley to the north of you currently drains to Sheep Creek, but on the other side of the cliffs right of it, tributaries of Willis Creek are steadily encroaching.
---
Swamp Canyon

Swamp Canyon begins a transition from the hoodoo-filled Bryce Amphitheater to the steep cliffs and buttes that characterize the scenic drive and southern end of the park. Many people assume that Swamp Canyon must be a misnomer. Although it might be the last place on Earth you would expect to find an alligator, compared to the rest of the park it is a virtual wetland. Here, below the rim, two tiny creeks and a spring provide enough water to sustain more lush vegetation like grasses and willows. This canyon remains wet enough year-around that it is also home to tiger salamanders and wild iris.
---
Farview Point

Farview Point is appropriately named. Navajo Mountain, 90 miles away on the border of Utah and Arizona, can be seen on all but the worst days. To the east, beyond the Table Cliff plateau, you may be able to see the more pointed peaks of the Henry Mountains, 84 miles away. These magnificent views result from Bryce Canyon's extremely high air quality. While many visitors are awed by the beautiful things they see here, it is what they don't see (the haze and smog produced by particulates in the air) that is one of Bryce Canyon's most valued assets.
---
Natural Bridge

Like some other features in the park, Natural Bridge is not what its name would suggest. Natural bridges are formed by the movement of a stream or river cutting through rock. The impressive feature seen here is instead a natural arch, or window, formed primarily by the expansion of ice in cracks deep within. A more weathering-resistant layer of rock protects the softer rocks below from more rapid erosion, while ice, rain, and wind slowly open the arch wider and wider.
---
Black Birch Canyon

The park has its share of misnomers (Mossy Cave isn't a cave, the canyon isn't really a canyon…) and Black Birch Canyon would be another. Since black birch (Betula lenta) only occurs in the east, it's likely quaking aspen (Populus tremuloides) were mistaken for these. Birch are famous for having bark that peels back like paper; aspen bark does not peel. Whereas aspen leaves are perfectly flat, birch leaves are slightly "V" shaped and more elongated than Quaking Aspen leaves.
---
Rainbow Point

At 9,115 ft (2,778 m) this and Yovimpa Point are the highest viewpoints in the park. Tectonic uplift has lifted this entire scene from sea-level over the course of the last 20 million years to later be dissected by tributaries of the Paria and Colorado Rivers. Tilting that occurred during uplift has situated the southern end of the park approximately 1,000 ft (304 m) higher than its northern end near the Visitor Center. Here erosion has been at work far longer than the Bryce Amphitheater, and undercut sheer cliffs compose much of the view along the edge of the Paunsaugunt Plateau.
---
Yovimpa Point

Along with Rainbow Point, Yovimpa Point is one of the highest viewpoints in the park. Tectonic uplift has lifted this entire scene from sea-level over the course of the last 20 million years to later be dissected by tributaries of the Colorado River. Tilting that occurred during uplift has situated the southern end of the park approximately 1,000 ft (304 m) higher than its northern end. Here you can gaze from the southern tip of the Paunsaugunt plateau and overlook the colorful cliffs of the Grand Staircase.
---
I hope all of this info and pictures get you excited to plan your trip to Bryce Canyon National Park. Remember there are always a lot of people there, so be patient and wait for your turn for pictures and view points. It is a great place to just relax and soak up the sun and make memories. Because of the weather we weren't able to visit all of these places, but we are looking forward to going back and exploring more!
Have you been to Bryce Canyon National Park before? What did you think? What is your favorite stop?
Other places in Utah to visit:
National Parks in Utah – Road Trip Guide
The best Utah National Parks to visit in the off-season
25 must-see Waterfall Hikes in Utah
Donut Falls Trail – Big Cottonwood Canyon, Utah
Utah National Parks, Trails, Monuments and Recreation Areas