We love Taco Tuesday! It is one of our favorite days of the week. Last week we made Chicken Taco Avocados for the first time, and they were a huge hit with my whole family. Not only are they delicious, but they are really easy to make so they are great when you need a quick meal!
Here is what you will need to make your Chicken Taco Avocados:
(this will be enough to make 6 chicken taco avocados and have extra for regular chicken tacos).
1 avocado for every two people (1 avocado = 2 halves)
2 lbs of boneless, skinless chicken breast
taco seasoning
1-2 large tomatoes, diced
lettuce, chopped
shredded cheese
sour cream
taco sauce
diced olives
To start, you will want to take your chicken and cook it. If it is frozen, you will need to defrost it first. Before you start cooking, cut the chicken breast into 1/2 in to 1 inch pieces. This will cook faster and be ready to go when it is done cooking. Be sure to trim any fat off and throw it away.
When the chicken is diced, you will put it into a skillet and add about 2 tbsp of oil and cook until done. Then add the taco seasoning (according to package directions) and some water and let simmer.
While your chicken is cooking, you will want to cut up all of your vegetables and grate cheese if needed. You will also to cut the avocados in half, and scoop a couple of spoonfuls of the meat out to make room for the chicken taco ingredients. You can use this to make guacamole or just leave it to top the other tacos with. That is what I did.
Chicken Taco Avocados
When everything is ready, you are going to assemble the chicken taco avocados. Put a spoonful of the chicken taco mixture into each avocado. Then you will add the other ingredients (the order doesn't matter). We put lettuce, tomato, cheese, then sour cream. Then I let everyone add the other stuff if they wanted it.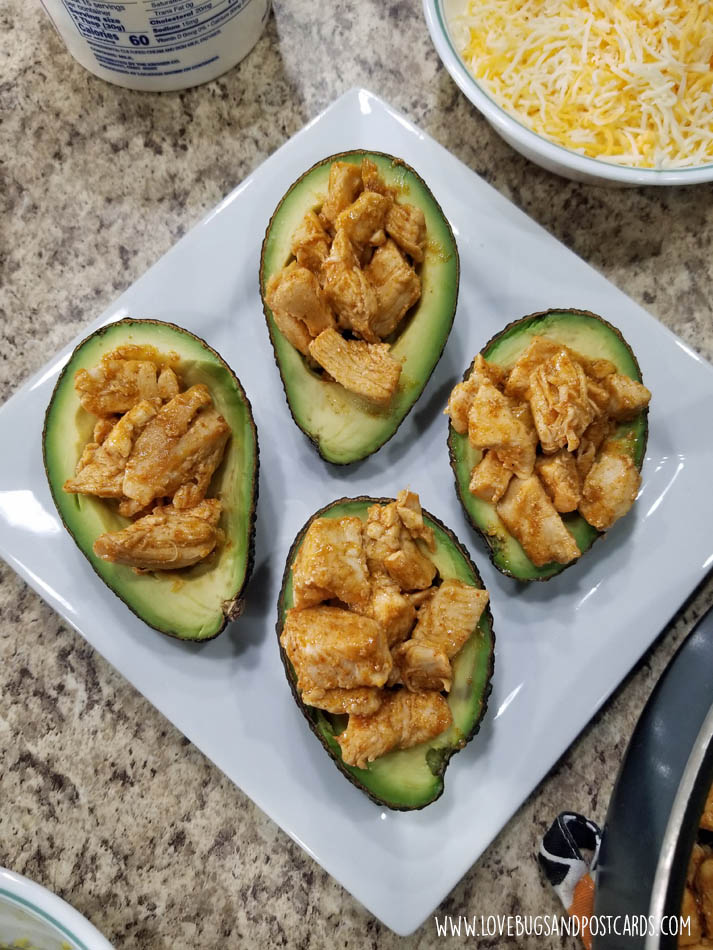 I also got the Nacho Cheese Flavored Taco Shells and some soft shells to make even more yummy chicken tacos.
Overall I think this took my like 15-20 minutes from start to finish. It really is a great healthy option for taco night that will be a huge hit!
Easy Family Meal Ideas
If you are looking for even more Easy Family Meal Ideas, be sure to check out this huge list, with a free printable. This has helped me so much. I love planning out a week, or even a month of meals ahead of time so that we don't struggle thinking of something to eat every night!